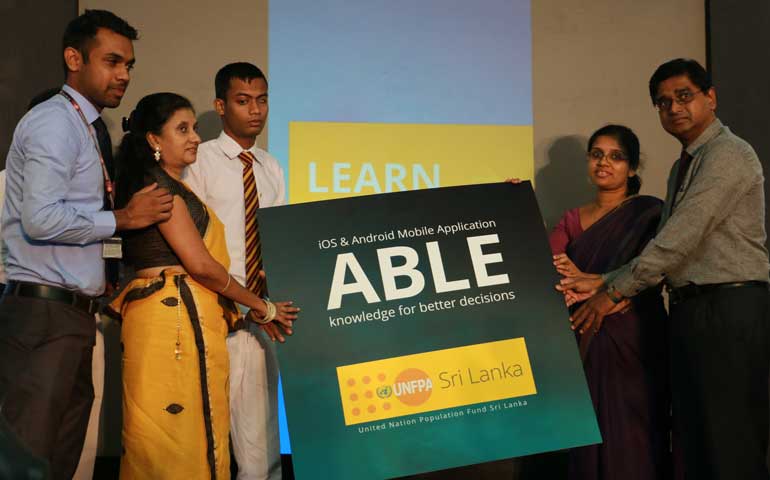 The United Nations Population Fund (UNFPA) is the lead UN agency that expands the possibilities for women and young people to lead healthy sexual and reproductive lives. They are on the ground improving lives in more than 140 countries, delivering a world where every pregnancy is wanted, every child birth is safe and every young person's potential is fulfilled.

Since the establishment of UNFPA Sri Lanka in 1969, the agency has been working with the Sri Lankan government to ensure rights of men, women and young people to sexual and reproductive health information and services to live healthy lives.

The Employers' Federation of Ceylon (EFC) ICT Training Centre for Persons with Disabilities assists developers, researchers and agents who manufacture devices for persons with disabilities, with knowledge, experiences, technical and accessibility support.

Sexual and reproductive health remains a big challenge for Sri Lankan youth. Most of these young people lack accurate information about reproductive health and contraception, putting them at risk from unwanted pregnancies and sexually transmitted diseases (STDs) including HIV AIDS.

People with disabilities are marginalised from society due to their inability to access sensitive information regarding their sexual and reproductive wellbeing easily and discreetly. Of the total population aged five years and over (18.6 million) in Sri Lanka, 1,617,924 persons were those with at least one of the six disability domains defined by the Census (disabilities in seeing, disabilities in hearing/speaking, disabilities in hands, disabilities in legs, other physical disabilities, intellectual disabilities). This represented 8.7% of the total of whom 43% were males and 57% were females (DCS, 2014). The country's highest proportion of disability is related to vision impairment.

There are virtually no special facilities in schools/other education centres for people with disabilities children/adults in many parts of the island. UNFPA's initiative of introducing a specially designed mobile application- 'ABLE- App', for persons with disabilities, especially the youth with disabilities, to access information to sexual and reproductive health, is an extension of their comprehensive reproductive health education program in the country.

The app runs on any iOS and Android phone and it is free. The facility is available in all three languages (English, Sinhala and Tamil) while the content will be edited to suit the Lankan sensitivities. This mobile application contains voice a guild for the visually impaired that will help them get through mobile app content.

The mobile application was launched a few weeks ago at the Taj Samudra, Colombo. The welcome note was delivered by Jeyan Abeywickrama, National Programme Analyst of UNFPA. Dr. Nadika Chandraratne from Family Health Bureau spoke on importance of sexual and reproductive health. The usage and the accessibility of the mobile application for persons with disabilities, was done by Manique Gunaratne from EFC's ICT Training Centre for Persons with Disabilities. Arun Jentrick is the Co-ordinator of the Comprehensive and Reproductive Health Education of UNFPA.

The app consists of two sections; the first is titled 'Learn', where users can learn about a range of topics, from sexuality and family planning to gender-based violence and STDs. The second is 'Find Support,' which contains a comprehensive catalogue of clinics in every city and district of the country. To download the app and receive updates, search for 'ABLE UNFPA' available on Android and iOS phones.