The fast expanding TMI Solutions Ltd., the sole distributor for Nihon Kohden Corporation, Japan manufactured products in both Sri Lanka and Maldives moved its In Vitro Diagnosis (IVD) operations to a new premise in Ratmalana recently.

The occasion was graced by Nihon Kohden Corporation senior board member Yasuhiro Yoshitake and Nihon Kohden Corporation Singapore Regional Headquarters Managing Director Eiji Iwasaki.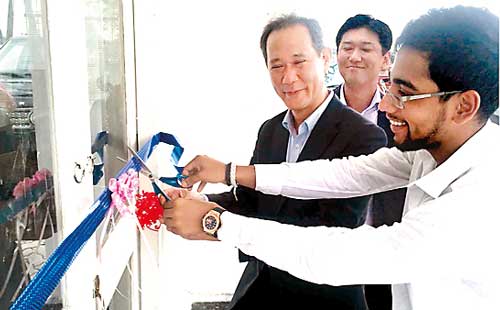 Both sales and technical divisions of the Nihon Kohden IVD business were moved to the new premises that it will help a better coordination to provide the Sri Lankan customers a better service.

Yoshitake who visited Sri Lanka for the first time pledged to further enhance the support given to TMI Solutions Ltd. to develop the business in Sri Lanka and Maldives. The visit of Yoshitake signifies the importance of the fast growing Sri Lanka market and his presence helped both companies exchange important points to further develop the business.

TMI Solutions Ltd. intends to make more investments to develop the IVD business in Sri Lanka by launching the latest innovative products manufactured by Nihon Kohden Corporation which will help the Sri Lankan clinicians diagnose diseases faster and accurately. TMI Solutions will also be a leading sponsor for the upcoming Annual Scientific Sessions of the Sri Lanka College of Hematologists.