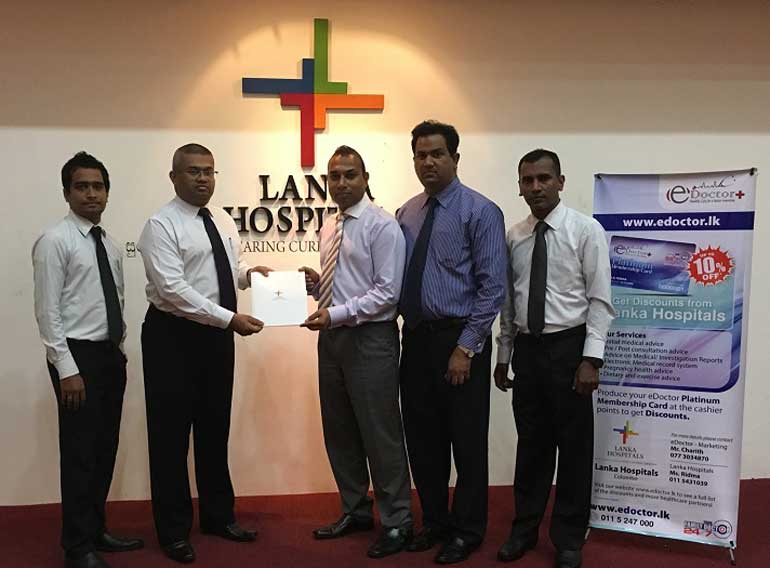 Signing the MOU (from left): Lanka Hospitals Assistant Manager – Marketing Thanujaya Gunasekera, Lanka Hospitals CEO Deshantha Silva, eDoctor CEO Chris Weerasighe, eDoctor Founder Dr. Harsha Jayakody and eDoctor Marketing Charith Rangana
Lanka Hospitals PLC, one of the largest private multi-specialty tertiary care hospitals in the country along with eDoctor (www.eDoctor.lk), has entered into a partnership aimed at taking healthcare services to a higher level. The official signing for this took place on 16 December.

Ever since they commenced operations in Sri Lanka in 2002, Lanka Hospitals, known back then under the brand moniker Apollo Hospitals, has had a reputation for being one of the best health care facilities in the country. 'To maintain exceptional and compassionate quality while offering cost effective healthcare solutions of international standards', reads Lanka Hospitals' mission statement, something they have kept close to the crux of their operations since inception.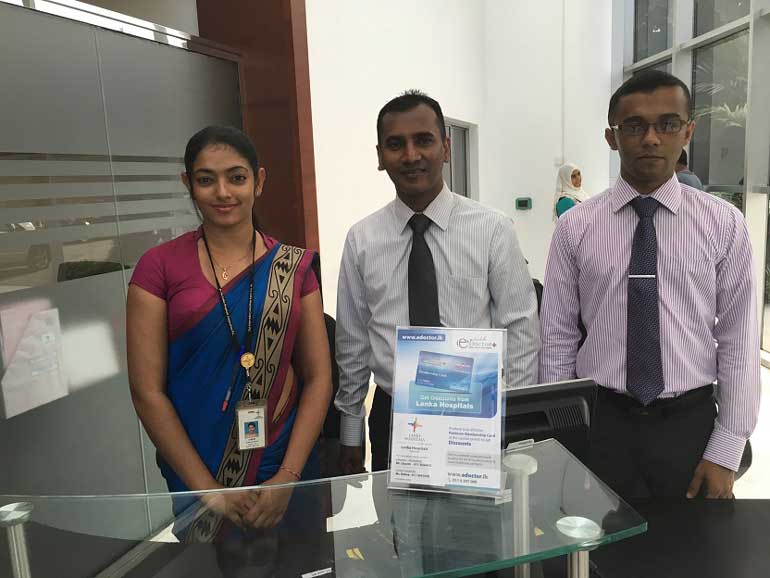 Launched in 2012, eDoctor.lk is a web based medical advisory service specialising in initial medical advice 24/7 at Family Doctor (GP) level. In addition to this they also act as a portal to a variety of medical services, and are host to a wide range of discounts and special offers at leading medical service providers throughout the country to its members. eDoctor also features Android and iOS apps, a nifty interface for people to get in touch with service providers and use the full spectrum of services offered with eDoctor. The apps are also integrated with EMR, otherwise known as Electronic Medical Record system.

Tapping into a market that was virtually non-existent a couple years ago, eDoctor is spearheading their sector combining technology and reputed healthcare service providers to give its users an optimal experience. This includes a wide variety of features in addition to the aforementioned advisory service and electronic medical records such as anonymous consultations for client privacy, sexual health advice and even features like travel with doctor, a handy option to get in touch with a local doctor when you're travelling overseas. eDoctor's Platinum members get discounts and enjoy benefits from more than 30 hospitals around the country.

The partnership also means discounts up to 10% at Lanka Hospitals PLC for eDoctor Platinum members for both in-house and OPD patients. And these offers are valid for a wide range of services offered at Lanka Hospitals including, laboratory testing, radiology (x-ray/CT/MRI), mammograms, health check packages and even room charges, to name a few.

Partnering with eDoctor also opens up Lanka Hospitals' services to an international audience. Sri Lanka's medical services are in high demand in the region as is, especially from countries such as Maldives, Bangladesh and Seychelles.

With a collaboration of this nature, not only does it open up more options for those people, it will also lead to a potential boom in the healthcare sector due to the ease of access from outside the country. This falls into a little known term called 'medical tourism'; a rapidly growing practice where travelling across borders is a norm for both patients and healthcare providers to obtain or provide medical assistance.

"We want to make Sri Lanka the hub for healthcare services," said eDoctor founder Dr. Harsha Jayakody. "Our eDoctor platform creates a great opportunity for this as it works towards seamless integration between patients and healthcare service providers," he added.

For more information on the partnership and how you can benefit from it, please drop by the special information desk at Lanka Hospital reception or visit www.edoctor.lk.