Singhe Hospital network as the first step of spreading its wings around the country opened its first complete laboratory at Homagama recently.

The public can acquire all kinds of laboratory facilities for reasonable prices at this laboratory facility which is located in front of Homagama Base Hospital.

Singhe Laboratory is now open around the clock on 365 days to provide quality and accurate medical reports and analysis to patients.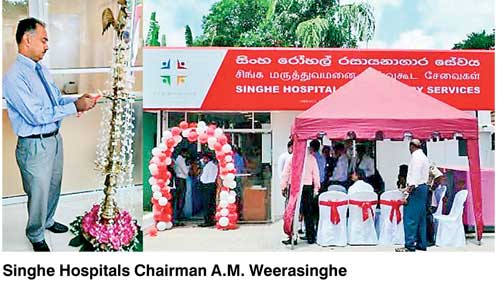 "A complete and accurate laboratory report will make the doctor's job easy. It is with this in mind that we are providing services to our customers. Our friendly staff will assure everyone is treated carefully. This is just the first step and we are planning to open fully fledged laboratory facilities in other cities as well," Singhe Hospital Managing Director Navinda Weerasinghe told media following the inauguration.

Singhe Hospital Ltd. collected its capital through initial public offering with the intention of expanding their network.

"We are planning to fulfil our shareholders expectations beyond the set goals. I also take this opportunity to thank our shareholders for the support they extended so far," Singhe Hospitals Chairman A.M. Weerasinghe said.

In just three years since its inception, Singhe Hospital has been able to increase their annual revenue to approximately Rs. 250 million.

Singhe Hospital which aims at providing quality healthcare will go a long way in the healthcare field.