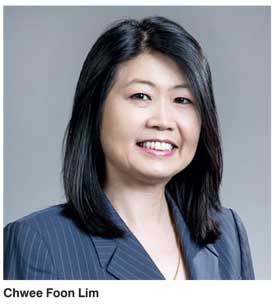 Good investments and a strong commitment by the government over the recent years have led to improved local access to healthcare services today.
However, as Sri Lanka progresses socially and economically, the expectations and needs of the patients are rapidly changing, with the fast growing ageing and middle income population putting more pressure on the still developing healthcare system. This has prompted strong interest amongst local healthcare professionals to explore and adopt international best practices and technologies to meet these changing demands.

These are the insights of Asia Pacific Head of Healthcare Lim Chwee Foon, for The Linde Group, a global gases and engineering company, on the challenges and opportunities ahead for Sri Lanka's healthcare system. Lim is in Colombo attending a series of dialogue sessions by the Society of Government Pharmacists in commemoration of World Pharmacists Day.

Linde Healthcare is a global leader specialising along an integrated respiratory care path. It combines pharmaceutical gases, medical devices, services and clinical care into solutions with the patient in mind. Its products and services make a difference in the lives of its patients and to its healthcare partners in the care continuum from hospital to home. A global business unit of The Linde Group, it is present in over 60 countries and generated revenues of EUR 3.665 billion in 2015.

In the 2015 financial year, The Linde Group generated revenue of EUR 17.944 billion, making it one of the leading gases and engineering companies in the world, with approximately 65,000 employees working in more than 100 countries worldwide. Following are excerpts of the interview:
Q: What do you see as the key challenges for Sri Lanka's healthcare system?

A: Sri Lanka has today a sound healthcare infrastructure with a strong pool of highly qualified healthcare professionals and caregivers.

However, similar to many other countries, the population's changing demographics and health issues will bring about new healthcare needs. So, a key challenge would be to strengthen access to and delivery of reliable and high quality healthcare services while still keeping costs affordable for the population.

Through our work with healthcare associations here, we are increasingly hearing from healthcare providers the need for quality assurance in healthcare delivery. With the current regulatory environment, the focus must be on continuous upgrade and enforcement of quality standards. These include having in place robust pharmaceutical grade processes and best clinical practices, which are essential to the long term success of the country's healthcare system.

It is important to note that regardless how healthcare demands change, the fundamental role of hospitals remains the same – a patient is able to go to a hospital for medical treatment with peace of mind that he or she is being cared for, safely.
Q: What are pharmaceutical grade processes and why is this essential?

A: Take medical gases as an example; medical gases are most essential within any clinical setting and hospital operations.

The use of medical oxygen is indispensable to patients in operating theatres, intensive care units and acute care ward, and during emergencies to treat patients with trauma; nitrous oxide primarily administered as an anaesthetic drug for operations; and, entonox, which is a mixture of medical nitrous oxide and oxygen for short-term pain relief from painful procedures to child birth. As such, no hospital can continue its daily operation without reliable supply of medical gases.

The quality of medical gases is therefore absolutely critical. Pharmaceutical grade medical gases are manufactured in accordance stringent sets of regulations and standards, such as Good Manufacturing Practices (GMP) and the European Pharmacopeia standard.

The general public misconception is that medical gas is just a gas. In reality, to ensure the safe and effective use of medical gases, a comprehensive framework of sustainable manufacturing and quality assurance practices, technology and compliance, linked to international standards is a pre-requisite.
Q: What is your view on establishing world class healthcare standard for Sri Lanka to succeed in becoming a choice medical tourism destination?

A: Healthcare is most critical for any country. Fundamentally, it really is about the well-being of the public. And so having the right standard is important to ensure that patients have access to high quality of care.

To achieve its ambition in medical tourism, it is important to have a clear road map of development as well to continuously upgrade existing infrastructure and quality of services in this highly contested space. Paying patients, especially from overseas, as we would know, are extremely demanding when it gets down to the standard and quality of care.

Standardisation has long been accepted as the core of patient safety. Hospitals, healthcare professionals and other providers across the care continuum must be aligned to the same standards of quality. Utilising evidence-based best practices in the international healthcare arena would be the step in the right direction to establish industry best quality and patient safety.

With so much investments going into infrastructural upgrade and new hospital development, there is great opportunity in the adoption of international standards in the design of these new facilities and equipment. The UK's Health Technical Memoranda, as an example, is an international standard that guides the design, installation and operation of healthcare facilities. Technologies in the healthcare sector, from medical devices to pharmaceuticals, are the key enabler for further advancements in efficient and safe provision of care.

It is an art to achieve the right balance in optimising upfront investments with the flexibility for future expansion and robust enough to support reliable and efficient daily operations. It requires a combination of experience, expertise, technologies to realise this effectively.

Channelling investments to develop a world class infrastructural design supported by technologies will position Sri Lanka favourably in meeting increasing demands of local patients and international ones.
Q: What progress have you seen in the healthcare sector in Sri Lanka?

A: The Linde Group's subsidiary in Sri Lanka, Ceylon Oxygen Ltd., has been operating here for over 80 years, providing pharmaceutical gases, medical devices, services and clinical care to healthcare providers and patients across the country.

In recent years, we are seeing very strong investments and development of healthcare infrastructure and services, across public and private sectors, as well as more focused promotion of medical tourism.

Increasing affluence, connectivity and transparency is putting more pressure on the healthcare system as patients' expectations and demand expand. This has prompted strong interest amongst healthcare professionals to explore and adopt international best practices and technologies. They are advocating more strongly than ever for higher healthcare standard and administration, acutely aware of the challenges the country will face with rising, and often more complex, healthcare needs.

The recent introduction of our new healthcare products and services in Sri Lanka is the outcome of successful joint exploration with various healthcare stakeholders to find the best fitting and advanced medical solutions for our patients and clinicians here in Sri Lanka. These include ENTONOX, an innovative therapy for effective pain management, and CONOXIA, medical oxygen in a light-weight aluminium cylinder with the patented LIV Linde Integrated valve for safe and convenient mobile oxygen therapy. These medical solutions were developed by our research and development effort in our headquarters in Germany through collaboration with healthcare professionals around the world.
Q: What are the other opportunities available to Sri Lanka's healthcare development?

A: Sri Lanka is very much on track with the development of its healthcare system. The government's commitment to establish universal quality healthcare access is absolutely commendable, with total healthcare spending expected to double by 2020.

Technology advancement is the great driving force behind rapid improvements in healthcare delivery, promising better clinical outcome and efficiency. We ourselves are excited about the opportunities digital technologies offer to hospital daily operations. This is why we invest in innovation, leveraging particularly digitalisation, to make patient care more accessible, reliable and safe. Through our work with healthcare professionals across 60 countries, we have developed a suite of service solutions that leverage digital technologies that have proven safer and more efficient delivery of medical gases to patients.

On changing demographics, as with most countries facing a rapidly ageing population, the country's healthcare focus and resources will shift towards chronic disease management. This is when the need for homecare services, for the care of patients at home, begins to emerge as well. Already 12% of Sri Lanka population today is more than 60 years old. This calls for a more cost effective model of care at patients' home, a model we have been actively developing with healthcare professionals and policy makers in the Americas and Europe.

As it is today, we are actively sharing our cumulative experience globally and in Sri Lanka with our healthcare partners here as the needs of the population here changes. We continue to work with them to identify and develop opportunities geared towards raising the overall access to and standard of care in Sri Lanka.
Good investments and a strong commitment by the Government over the recent years have led to improved local access to healthcare services today, says Linde Group Asian Pacific Head in interview with Daly FT