President Maithripala Sirisena says the Government will take steps to strengthen the country's health sector by increasing budgetary allocations to the sector to 5% of GDP.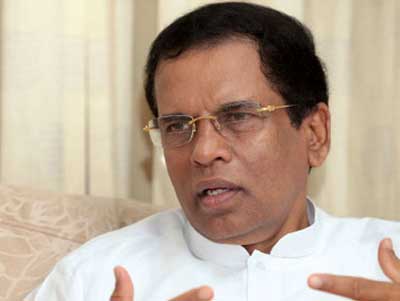 President Sirisena in his election manifesto proposed to increase Government expenditure on health as a percentage of GDP from 1.8 to 3%.


Participating as chief guest at the International Family Health Day celebrations at the National Youth Centre in Maharagama on Tuesday, Sirisena said that the development in health service is a more important measurement on the development of a country rather than the development of physical resources such as roads and buildings.


Family Health Day celebrations were held today under the theme 'Strengthening Family Health Service to Safeguard Motherhood'.

Commending the services rendered by the family health workers, the President said that Sri Lanka is now maintaining favourable and praiseworthy health indexes. While noting the trade union agitations of the family health service workers to win their professional and service demands, the President pledged to consolidate the rights of the people in a manner no country or an individual could challenge at the end of his first year in office.


Speaking at the event, Minister of Health and Indigenous Medicine Dr. Rajitha Senaratne remarked that the present government succeeded in discharging a valuable service with the adoption of the Tobacco Act and the Drugs Act.