London (Thomson Reuters Foundation): The new head of the World Health Organization said it was unacceptable that one in 17 people still lack access to essential health services and said he aimed to change this under his leadership.

Tedros Adhanom Ghebreyesus said achieving universal health coverage would be a "top priority" during his five-year term as head of the Geneva-based UN agency.

"Globally an estimated 400 million, approximately one in 17 people, lack access to essential health services, that's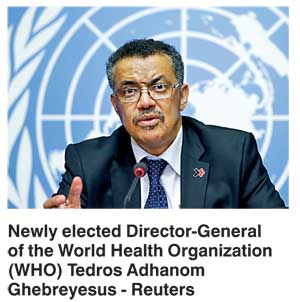 unacceptable," Tedros, as he is known, said via video-link, joining a panel debate last week at Chatham House, a London-based think tank.

Universal health coverage is based on the principle that everyone should receive the health services they need without suffering financial hardship, according to the WHO.

Millions of people in developing countries are tipped into poverty each year because of having to pay healthcare bills.

France and Japan have mature universal health systems in place while others such as Ghana, Peru and Vietnam are in the early phases of setting them up, according to 2016 research by the Lancet medical journal.

Tedros, a former Ethiopian health minister, has replaced Margaret Chan, who left a mixed legacy after her 10 years on the job, especially because of WHO's slow response to West Africa's Ebola epidemic in 2013-2016, which killed 11,300 people.

Far from being bankrupted, countries would feel significant economic and social benefits if they adopted universal health coverage, said Nobel Prize winning economist, AmartyaSen, also on the panel.

Citing the example of Kerala, which took up the policy in the 1950s when it was the poorest state in India, Sen said the life expectancy for its inhabitants not only "shot up" but it was now one of the richest states in the country, in part due to its investment in healthcare. "Health is central to development ... it does something dramatically good to economic development," he said.