By Senuri de Silva

Three products of Nature's Secrets new baby care range have recently succeeded in passing USA's most rigorous and prestigious skin safety clinical assessments.

It has been confirmed by a series of tests conducted by a lab in New York City, registered under the FDA (Food and Drug Administration) that the Panda Baby range of creams, shampoos and washes have mild formulas ideal of baby's skin and do not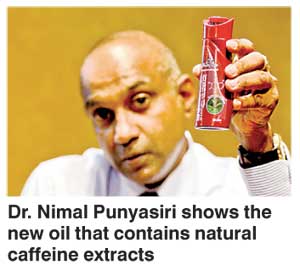 cause irritations, allergies, erythema or discoloration.

Nature's Secrets Director of Research and Development Dr. Nimal Punyasiri met with the Daily FT to discuss this notable accomplishment and said that further assurances regarding the reliability of the product have also been given by specialists adding, "They have also been certified by paediatricians and dermatologists."

The Panda Baby range of baby care products is completely developed through Sri Lankan ingenuity with research done by local scientists and using only natural oils from locally available plants. It is the first product in this category to receive this level of international recognition. The line also includes a cologne and talc.
First in the world

The Sri Lankan cosmetic manufacturer has also developed a new shampoo and hair oil that stops hair fall and stimulates hair growth. It does so by using natural caffeine extracted from green tea using technology that has been patented by the company and Dr.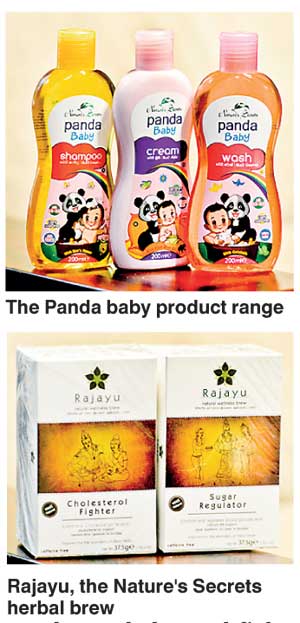 Punyasiri said, "Nobody in the world has done this. There are products with synthetic caffeine but not natural caffeine to get that stimulating effect." This makes Nature's Secrets products the only products that contain natural caffeine, extracted from green tea.

While the shampoo is already available for purchase at leading supermarkets, the accompanying hair oil will also be available in the market very soon.
Recipes of ancient kings and queens

Dr. Punyasiri also went on to discuss the new tea substitute that expands the range of products created by the company beyond skin care products saying, "We not only make products for your skin but for other healthy aspects also."

This special brew is named Rajayu as it contains 'materials our kings and queens have used', such as beli, cinnamon and ranawara.

There are four brews that tackle four main health issues and they are; sugar regulator, cholesterol fighter, memory booster and fat burner.

Rajayu has been developed with over a year of research and development conducted by traditional physicians and scientists. Tea tasters have ensured that the final product also tastes good.

Rajayu and all other Nature's Secrets products can be purchased from the Dutch Hospital outlet, at Arpico and Keells as well as the Nature's Secrets web store.
Service to the scientific community

Nature's Secrets is the first private company to set up a plant research centre in Sri Lanka. All research is done by local scientists using state-of-the-art laboratories and over 800 plant species grown on a special 13-acre land for this purpose. This compound also serves a secondary purpose of preserving these plants with special properties.

Dr. Punyasiri also displayed the second edition of a book that contains a wealth of information about these special plants. The content of the book has been curated by a group of specialists under the directions of the company as a 'service to the scientific community'. The group of specialists involved in this book include National Botanical Gardens of Peradeniya Director General Dr. Siri Wijesundara and Haldamulla Medicinal Plants Garden Scientific Officer-in-Charge Prof. Piyal Marasinghe.
Pix by Daminda Harsha Perera