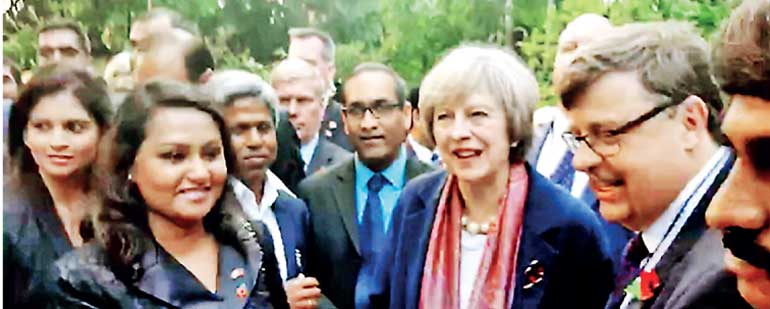 British Prime Minister Theresa May(right) at the launch of LycaHealth's project in Chennai during her first visit as UK Premier last week. LycaHealth Chairperson Prema Subaskaran is also present
LycaHealth (part of the Lyca Group of Companies) is developing a £15 million Imaging, Diagnostics, Day-care and Outpatients Healthcare facility opening soon in Chennai, India, to be known as Westminster Healthcare. This state-of-the-art healthcare centre will provide patients with services of the highest standard.

Westminster Healthcare, India's first Health Design build, is preparing for launch early next year. Situated in the heart of the city of Chennai, the facility has a 70,000 sq. ft. footprint. The buildings will be used for medical consultation, day-care, diagnostic and wellness services.

It is no coincidence that the British Prime Minister's first visit outside Europe was to India; it indicates the UK government's intent to establish stronger trade and investment ties between the two countries post Brexit. Speaking before the visit, Prime Minister May said: "The UK and India are natural partners – the world's oldest democracy and the world's largest democracy – and together I believe we can achieve great things – delivering jobs and skills, developing new technologies and improving our cities, tackling terrorism and climate change. This is a partnership about our shared security and shared prosperity. It is a partnership of potential."

India's Prime Minister Modi added at their meeting that, "UK companies have already signed a deal worth 9 billion pounds, Start-up India aims at converging innovation and opportunity."

Westminster Healthcare, launching in Chennai in early 2017, figured both in the press release from 10 Downing Street and at the inaugural address by Prime Minister Theresa May.

Westminster Healthcare will focus on:

Personalised services with no waiting times.

An exclusive UK team offering physiotherapy, sports medicine and rehabilitation gym services.

Promises to be associated with the best doctors drawn from across the city.

Supports the go-green initiative where all data is securely stored and accessed. The facility will embrace the latest in technology with health records being available at all times through a variety of connected devices. Exclusive wearable technology for patients will be developed in the near future.

Advanced healthcare by specifically differentiated wellness services for men and women.

A variety of specialist and sub-specialty services including dentistry, cosmetology, gynaecology, ophthalmology, respiratory medicine, diabetology, pain control, bariatric and weight reduction services, and MedSpa will be available. The focus will be on high-end diagnostics including 3Tesla MRI, low radiation, high-resolution CT, Ultrasound, Digital X-ray and day-care procedures, such as keyhole surgery and endoscopic procedures.

The parent team at LycaHealth that manages multiple high-end and similar centres in London, UK, believes there is a gap in the private healthcare market for the discerning client who would like to receive a high-end trustworthy service.

The CEO and co-founder of LycaHealth, Dr. Manpreet Gulati (an ex-faculty member from the prestigious All India Institute of Medical Sciences and NHS UK) said: "Westminster Healthcare aspires to be a major leader in outpatient healthcare and diagnostics in India with further investment expected to reach £75 million over the next five years, in line with the LycaHealth vision in the UK. A very important reason to create LycaHealth is to generate wealth (and not just money!) so that we can in tandem, fund social enterprise initiatives in the areas of need including in India, Sri Lanka and Africa to provide low cost, ethical and good quality healthcare in these regions in our own small way. This purpose is of great personal significance to me, as it was borne out of a personal tragedy 20 years ago. It also resonates with our Chairperson Prema Subaskaran (also the co-founder for the Gnanam Foundation) and our visionary Lyca Group Chairman, Subaskaran Allirajah, at a deep personal level. We promise to deliver service with infallible integrity, impeccable quality and utmost care."

Westminster Healthcare is the culmination of the hard work by co-founders and Directors Dr. Manpreet Gulati and Sen Kandiah over three years, with blessings and funding by the Lyca Group of Companies, the largest MVNO company in the world.

Lyca Health offers its services in London and Orpington also Westminster Healthcare in Chennai, India.