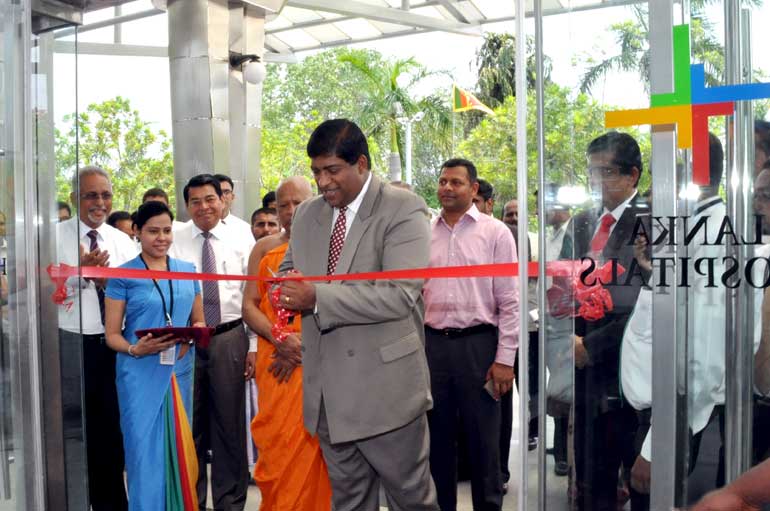 The newly refurbished front lobby area of Lanka Hospitals Colombo was declared open by Minister of Finance Ravi Karunanayake on 29 April in a simple ceremony.


The new floor space accommodates patient registration, admission and channeling counters, a VIP lounge and customer services facilities. The opening was preceded by a religious ceremony where representatives of all religions invoked blessings for the hospital, acclaimed for its International care standards.


Lanka Hospitals Plc is the multi award-winning internationally-accredited hospital located at the heart of Colombo. Fortified with the most technologically advanced equipment and a well-respected bevy of consultants and medical staff with international exposure and experience, Lanka Hospitals is poised to deliver maximum patient safety and superior care, in compliance with the Joint Commission International Accreditation (USA), it is honored with.


The 280-bed tertiary care multi-specialty hospital is spread over 350,000 square feet with seven acres of beautifully landscaped garden and holds an unmatched track-record and an epithet as 'The most accredited hospital in Sri Lanka'.


As the forerunner in transforming Sri Lanka as the emerging healthcare hub of Asia and the Asia Pacific region, Lanka Hospitals has an experienced team dedicated to looking after all the medical needs of foreign patients.


Lanka Hospitals believes in transparency at all levels in all its transactions between all stakeholders including medical tourists. Communication and interaction between all stakeholders and especially with its patients takes prominence at this world-class healthcare facility.


Among the many firsts and bests recorded by Lanka Hospitals, the heart centre, with 5,500 pediatric and adult Cardiac surgeries up to date, fertility centre with almost 1000 IVF births, renal care centre with more than 600 kidney transplants and ENT unit with 100 cochlear implant surgeries take prominence. Lanka Hospitals also offers the services of full-time neurology surgeons, the only hospital in the country to carry out long-term video EEG monitoring, equipped with the most advanced and latest neuro navigation system with Sri Lanka's first 3D C arm that enables utmost navigation precision, greater visibility, access, greater flexibility and superior diagnostic view.


Lanka Hospitals' General Surgery unit including its Orthopedic, Cosmetic Surgery Clinic and Dental Clinic are also high performance centres equipped with the best technical and medical expertise complimented by the latest technological infrastructure.


Lanka Hospitals holds a track-record of winning many accolades at both the national and international level. Apart from the prestigious JCIA, in 2013, Lanka Hospitals clinched the Global Performance Excellence Award 2013 (GPEA) a world-class recognition awarded by the Asia Pacific Quality Organization as per the Malcolm Baldrige Quality criteria.


Lanka Hospitals is the only healthcare facility to have won this highest recognition in the world-class category in Asia and the Asia Pacific Rim in 2013. Lanka Hospitals was awarded with ISO 14001:2004 certification for Environmental Management systems in 2013.


Lanka Hospitals was the only hospital to be awarded the prestigious National Quality Award for the year 2012 after a span of 15 years. Lanka hospitals was the first hospital to be rated AA by Brand Finance in 2010, while being placed within the top 50 brands in Sri Lanka in terms of Brand Equity, a position higher than any other hospital In Sri Lanka.


It is the only hospital to be rated A+/P1 (Stable) by RAM Ratings for three consecutive years for financial stability and future outlook and this status has been upgraded to AA-/ (Stable) for 2015, elevating Lanka Hospitals above all other players in the industry.


Lanka Hospitals is also the only hospital in Sri Lanka to be awarded with an ISO 22000:2005 certificate for Food Safety Management Systems, 5 out of 5 Crowns and rated excellent for meeting international standards in food quality and hygiene by Indexpo – the only rating agency for food hygiene.


Lanka Hospitals is the first hospital in Sri Lanka to be certified with the ISO:15189 accreditation for laboratory services. Its total quality management is well evident through these consistent achievements.


Led by Chairman Dr. Sarath Paranavitane, the Board of Directors of Lanka Hospitals at present is as follows Malvinder Mohan Singh, Daljit Singh, Parthasarathy Raghunath, (alternate Director to Malvinder Mohan Singh), Karthik Rajagopal (alternate director to Daljit Singh) Ven. Thiniyawala Palitha Thero, Dr. Sarath Paranavitane, Harsha Gunasekara, Prof. Menaka Samarawickrema Lokuhetty, Dr. Rohan Wijesundera, Damien Fernando, Prof. Mandika Wijeyaratne, Prof. Asita De Silva, Tissa Nanayakkara.


The daily operations of the hospital are being successfully carried out with the leadership of Director Medical Services Dr. Wimal Karandagoda, Deputy Director Medical Services Dr. K.T. Iraivan and the Executive Committee.


Pix by Lasantha Kumara