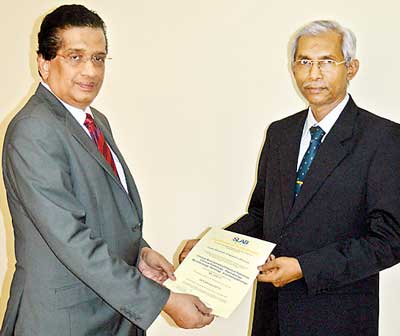 Lanka Hospitals Diagnostics (LHD), a subsidiary of Lanka Hospitals, which offers patients and clinicians the largest test menu in the country via Sri Lanka's first state-of-the-art Medical Reference Lab, recently announced its upgraded accreditation to ISO 15189:2012.

In 2009, LHD was the first hospital laboratory in Sri Lanka to be bestowed with the ISO 15189:2007 'Medical Laboratories – Particular Requirements for Quality and Competence', which was awarded by the Sri Lanka Accreditation Board for Conformity Assessment (SLAB), which is the National Accreditation Authority for Sri Lanka established under the Sri Lanka Accreditation Board for Conformity Assessment Act. No. 32 of 2005.

The new globally recognised ISO 15189:2012 standard for laboratories has moved on from its predecessor ensuring safer, more stringently monitored diagnostics and higher quality performance.

Adopting ISO 15189:2012 accreditation, LHD showcases best practices, procedures and principles at every touch-point including advice to clinicians, collection, transport, reception and testing of specimen, completing the cycle with reporting and interpretation.

"Receiving the ISO 15189:2012 accreditation is a major accomplishment and it further demonstrates our commitment to providing the highest quality of diagnostic testing and services to doctors and patients across the country, aimed at benefiting the entire society," said Lanka Hospitals Chairman Dr. Sarath Paranavitane.

"At LHD we spend over Rs. 75 million annually to provide significant quality assurance standards and this new accreditation adheres to the most rigorous regulatory standards and quality assurance criteria that any international-level laboratory can achieve," he continued.

ISO 15189:2012 specifies requirements for quality and competence consisting of both management and technical requirements for a medical laboratory. Following the ISO final audit in to its protocols, procedures, processes and strict quality assurance performance, LHD were awarded this certification.

"Achieving this new ISO 15189:2012 certification places LHD in the upper echelon of the highest quality laboratories in the region. It validates our ability to perform high quality clinical testing at international standards and provides physicians and patients with the confidence they need," said LHD Director Professor Dilani Lokuhetty.

LHD offers the broadest laboratory test menu in the country, consisting of more than 1,050 tests, of which LHD is the only lab offering 84 highly specialised tests in the country. LHD is also the only medical laboratory in the country to offer Histopathology tests accredited by ISO 15189.

Other spectrums covered by LHD for ISO 15189 accreditation include Microbiology, Immunology and Serology, Biochemistry, Haematology, Molecular Biology, Cytogenetics and Flowcytometry.

Doctors are overwhelmed with an increasing number of laboratory tests available and with the large volume of laboratory data, these tests generate. LHD encourages communication between the doctors and the laboratory whenever an interpretation is needed.

LHD is also the only private lab in Sri Lanka with five full-time laboratory consultants supervising a committed and exceptional team of technical staff and continuing its path towards setting the highest laboratory standards.