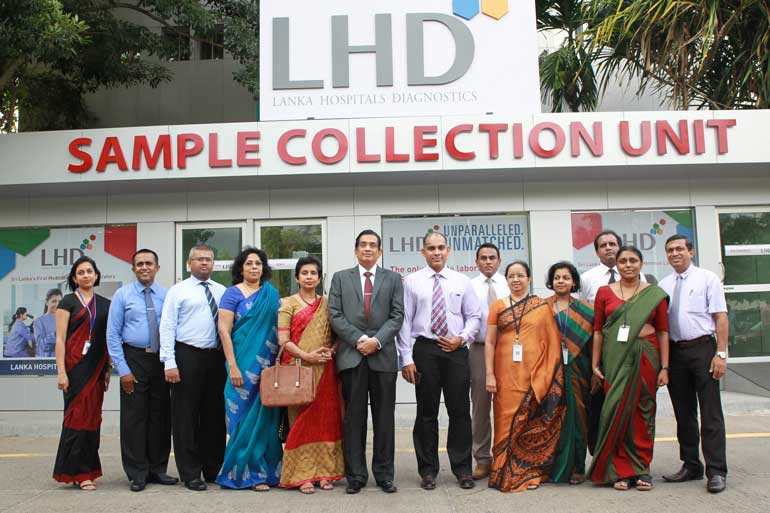 Board of Directors and Doctors of Lanka Hospitals Diagnostics (LHD)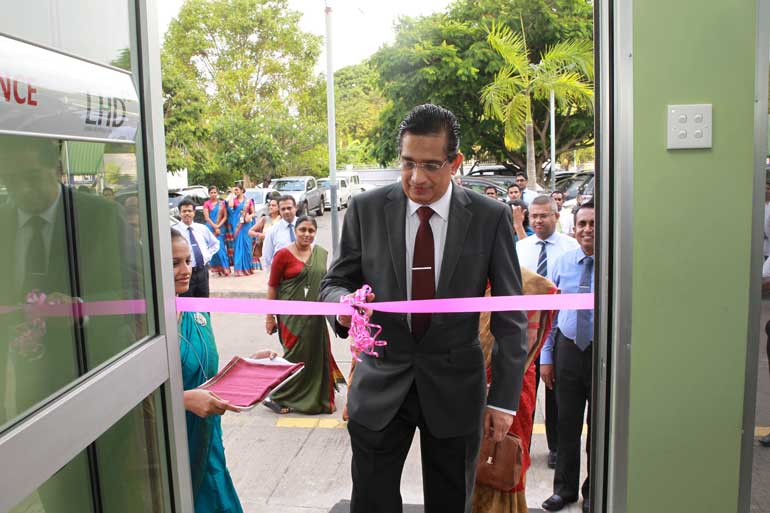 Lanka Hospitals Chairman Dr. Sarath Paranavitane opening the Sample Collection Unit
Celebrating another pioneering venture, Lanka Hospitals Diagnostics (LHD), the nation's first Medical Reference Laboratory recently inaugurated its new Sample Collection Unit located within the Lanka Hospital premises.

The Sample Collection Unit, the only such unit in any hospital in Sri Lanka, is specially designed to provide a hassle free, convenient and faster service for customers requiring laboratory testing.

"We are very proud to launch our new Sample Collection Unit in order to provide accurate diagnoses more quickly on site and enable close cooperation between clinical teams and physicians, which is at the heart of our ethos of comprehensive patient-centric care," said Lanka Hospitals Chairman Dr. Sarath Paranavitane.

The main objective of setting up the sample collection unit outside the hospital main building but within the hospital premises was to offer customers unparalleled convenience. Customers visiting the new unit do not have to enter the hospital building, have ample parking and no longer have to waste time waiting in queues.

"LHD prides itself on focused customer care providing all patients with unmatched levels of service," added Dr. Paranavitane.

Additionally, LHD which is renowned for its efficiency of patient care by focusing on innovation and the latest technologies now offer patients the ultimate convenience of obtaining online results of the test through its website.

This service enhances communication and convenience for patients and families, eliminating the need to visit the hospital twice for report collection. Once patients submit the sample or specimen they receive an SMS confirming its receipt. When the report is processed patients receive another SMS. A final message with the necessary User ID and Password to access the results is also sent to patients to log into the LHD website and view the test result.

LHD places its customers at the centre and fulfils its commitment to them by adhering to the principles of maximum flexibility, uncompromising quality, and outstanding service. Contributing to LHD's sterling reputation is its compliance with international standards.

"LHD is reputed for its compliance with international standards and as the first hospital laboratory in the country to receive ISO:15189, LHD assures its large and growing client base of the highest standards of quality and industry best practices," said LHD Director Professor Dilani Lokuhetty.

The ISO standard certification is an internationally renowned set of quality standards, specifically designed to facilitate and affirm particular requirements for quality and competence in medical laboratories.

LHD is also the nation's first Medical Reference Laboratory offering the broadest laboratory test menu, consisting of more than 1,050 tests of which LHD is the only lab offering 75 highly specialised tests in the country. Equipped with state-of-the-art testing facilities and advanced instruments and equipment, testing is conducted under the latest testing platforms.

LHD is also the only private lab in Sri Lanka with six full-time laboratory consultants supervising a committed and exceptional team of technical staff who adhere to strict quality controls, SOPs and protocols.

As a testament to the world-class, innovative solutions being put in place to improve patient and clinical experience, LHD is in the process of undergoing proficiency testing for the College of American Pathologists (CAP) accreditation, which it plans to achieve in September 2016.​

"The CAP accreditation is a testament to the world-class, innovative solutions being put in place to improve patient and clinical experience," noted Prof. Lokuhetty.

CAP is recognised globally as the gold standard in laboratory accreditation. It is the world's largest association composed exclusively of board-certified pathologists and the worldwide leader in laboratory quality assurance. CAP advocates accountable, high-quality and cost-effective patient care.

Catering to customers seeking superior lab services, LHD have over 600 collection centres island wide with future plans envisaged of opening two new labs in Kandy and Karapitiya during the next few months.

LHD's success is based on its aspiration to be the best service laboratory in the country providing its customers with uncompromising quality.

Celebrating the inauguration of the new sample collection unit, LHD is offering all customers who use this new facility a 25% discount on all lab tests conducted in the month of January by producing a lab report obtained after 1st September 2015, from any laboratory.