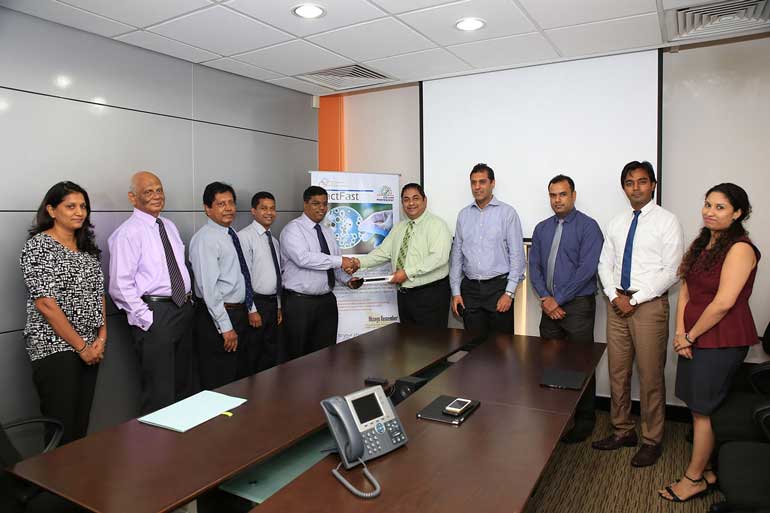 Credence Genomics Product Consultant Amali Dissanayake, Credence Genomics Marketing Advisor Neville Perera, Credence Genomics Director Upali Perera, Hemas Head of Laboratory Services Dr. Rohan Sugathadasa, Credence Genomics CEO/Director Dr. Vaz Gnanam, Hemas Hospitals MD Dr. Lakith Peiris, Hemas Hospitals Chairman Murtaza Esufally, Hemas Hospitals Head of Business Development Prabhan Gunawardena, Hemas Hospitals Director Innovation and New Business Development Dr. Himesh Fernando and Hemas Hospitals Manager Legal Maheshi Pieries
Hemas Hospital laboratory services which believe in cutting edge technology and have the largest laboratory network in Sri Lanka entered into a collaboration with Credence Genomics, the pioneer in genomic research and diagnostics in Sri Lanka.

The collaboration allows Hemas hospitals to offer high end molecular biology and genetic tests that have been developed by Credence Genomics for diagnosis of infectious diseases, tumour treatment, breast and colorectal cancer predictions and a range of inherited genetic disorders.

The infection detection test could within 24 hours detect the infection, whether it is bacteria or fungi. A further set of tests can then identify exactly which bacteria or fungi, is affecting the patient.

This is a culture independent highly sensitive test, which even gives the relative abundance of the microbes.

With respect to cancer diagnostics, the 'Tumor Hotspot analysis', tests for common cancer genes in one go and assists in the fine-tuning of chemotherapy to minimise side effects. In addition, Credence Breast and Credence Colorectal screening, checks patients for specific genetic mutations that may cause cancer. These tests are predictive tests that will minimise your risks of getting two of the most common cancers among women and men respectively by offering personalised prevention programmes. Credence Breast and Colorectal will particularly be of importance to families with a history of cancer.

The 'inherited disorders test', screens for genetic disorders that are passed across generations.

The test evaluates for neuromuscular, metabolic, developmental, heart and many other diseases.

The test could enable couples with a family history of inherited disorders to make an informed decision of the best reproductive option and eliminate unnecessary worry and doubt before marriage. The panel can also diagnose children affected with conditions that cannot be easily diagnosed with conventional tests.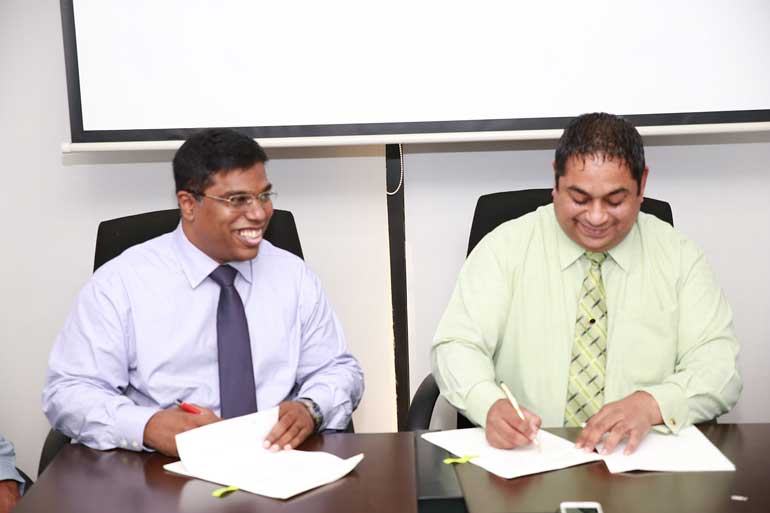 The Hemas-Credence collaboration will provide a wider reach of doctors with cutting edge services and accurate diagnostic tools and a much larger patient base with the desired answers for the most challenging of medical questions. Credence Genomics and Hemas hospitals are looking forward to ensuring that the current trend in genetic diagnostics is upheld.

Credence is one of the 15 laboratories world over which specialises in Next Generation Sequencing which provides a result with 99.7% accuracy and ultrafast turnaround times. The services also include an expert client support system and genetic counselling with confidentiality.

Hemas Hospital is a subsidiary of Hemas Group, a leading Sri Lankan conglomerate that has business interests in four key sectors – FMCG, Healthcare, Transportation and Leisure. The multi-specialty hospital chain comprises three full-service hospitals at Wattala, Galle and Thalawathugoda, along with 33 fully equipped laboratories and provides community-based expert health care services by positioning its chain of hospitals in strategic locations outside the commercial hub of Colombo.

It guarantees patients the highest safety standards, backed by full international accreditation and was the first hospital in Sri Lanka to be recognised by the prestigious accreditation body, Australian Council for Healthcare Standards.