The opening of Hemas Hospitals Laboratory Services' 34th laboratory in Akuressa by Hemas Hospitals Managing Director Dr. Lakith Peiris (second from right) and other distinguished guests
The country's largest and fastest-growing laboratory chain, Hemas Hospitals Laboratory Services, has expanded further with the opening of its 34th laboratory in Akuressa recently.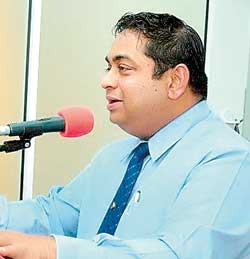 The new fully-automated laboratory which requires minimum human intervention (thus increasing accuracy of medical testing) will enable people of the area to conveniently obtain more accurate, reliable and faster medical laboratory testing services and will also assist doctors in diagnosing their patients better. Hemas Hospitals Laboratory Services, which has been used by millions of Sri Lankans since its commencement in 2008, adheres to the highest quality standards and complies with the prestigious Australian Council on Healthcare Standards International (ACHSI) accreditation as well as ISO 15189 (relating to quality and competence in medical laboratories).

The services which can be obtained from the Akuressa laboratory include a wide range of investigations in Biochemistry, Haematology, Serology, Microbiology and Histopathology, Clinical Pathology, Immunology, Serology, Endocrinology, Cytopathology and Immuno-Histochemistry. The laboratory will also handle channelling services to facilitate consultations with leading medical specialists at Hemas Southern Hospital, Galle.

The opening ceremony was held with the participation of Hemas Hospitals Managing Director Dr. Lakith Peiris and many other distinguished guests and members of the senior management of Hemas Hospitals.

"The residents of the area earlier had to go to Galle or Matara to access good quality medical laboratory services," Dr. Lakith Peiris said speaking at the opening of the Akuressa laboratory. "However, following the opening of a Hemas Hospital Laboratory in the area, high quality medical laboratory services which meet international specifications and standards can be conveniently accessed within the area itself. Area residents can thus save a substantial amount of both time and money while obtaining a superior quality medical laboratory service."

Hemas Hospitals Laboratory Services which initially commenced in Wattala seven years ago has gone from strength to strength, both in terms of locations served as well as facilities. Laboratories were thereafter opened in many parts of the island including Thalawathugoda, Galle, Gampaha, Chilaw, Negombo, Ja-Ela, Karapitiya, Sri Jayawardenepura, Kalubowila, Norris Canal Road, Kurunegala, Kandy, Nawalapitiya, Kebithigollewa, Anuradhapura and Avissawella.

Hemas Holdings is one of the country's leading diversified conglomerates and is present in a number of sectors including FMCG, Health, Transport, Hospitality and Power and Energy.