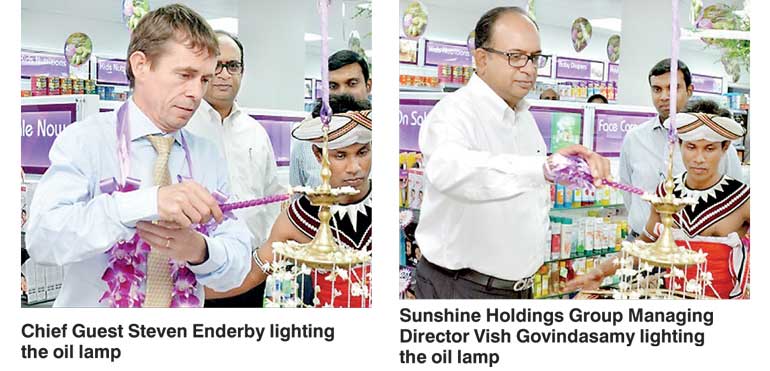 Healthguard Ltd. has opened 'Premium' grade outlets in Colombo 3 and Colombo 5, which strongly embody the company's view that healthcare retailing extends beyond pharmaceuticals, by offering a wide range of products for living (wellness), looking (beauty) and feeling better (pharmaceutical) from trusted and reputed brands.

The latest outlets of the country's premier urban pharmaceutical, wellness and beauty retail chain, located conveniently at No. 415 Galle Road, Colombo 3 and No. 229, Kirula Road, Colombo 5, follow the aesthetically pleasing and spacious design adopted by Healthguard outlets, to provide a differentiated and enjoyable shopping experience.

The new Healthguard at Colombo 3 and Colombo 5 expands the company's presence in the Western Province to 19 outlets and both will be open from 7 a.m. to 10 p.m. all seven days of the week. The opening ceremony of the Premium outlet at Colombo 3 was graced by Hemas Holdings PLC Executive Director/CEO Steven Enderby, Vish Govindasamy, Group Managing Director, Sunshine Holdings PLC (of which Sunshine Healthcare is a fully-owned subsidiary), Shyam Sathasivam, Managing Director, Sunshine Healthcare Lanka (of which Healthguard is a subsidiary) and other distinguished guests.

"With the expansion of our retail chain, more customers will be able to conveniently access our novel and holistic approach to healthcare retailing, which goes beyond pharmaceuticals and which aims to transform a routine activity to a pleasant and an enjoyable experience," Sunshine Healthcare Managing Director Shyam Sathasivam said.

"While we will substantially expand our physical presence in the near future, we will also continuously focus on providing customers an even greater choice from reputed and trusted brands and an even superior customer service." The company's ability to engage customers and its exceptional customer service has resulted in a loyal, fast growing customer base with increased sales volumes, ensuring that Healthguard is reinforced as a destination for healthy living.