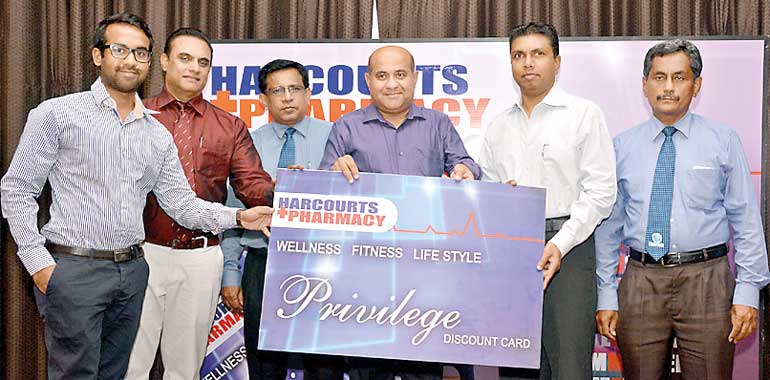 From left: Director Rishard Rheyas, Marketing Manager Tariq Junaid, MD/CEO Ivor Fernando, Chairman Ahmed Rheyas, Lalith Nonis and Director Operations Harees Farook – Pic by Upul Abayasekara
Under the vision of Harcourts Ltd. Chairman Ahmed Rheyas, the Harcourts Pharmacy loyalty card was officially launched recently at the OZO hotel in Colombo. The event was witnessed by its patriotic customers who have shown their loyalty for over a decade.

Rheyas, Director Rishard Rehyas, Harcourts Pharmacy MD/CEO Ivor Fernando, Harcourts Pharmacy Director Operations Farook and Harcourts Pharmacy GM Finance Arshad were amongst the participants.

Harcourts Pharmacy Marketing Manager Tariq Junaid speaking to the press said that the loyalty card was long-awaited by its customers and it was a great pleasure to have made it come true. He further stated that customers would be excited about the offers/discounts/reward points and its valuable partner discounts that have been incorporated into the loyalty card.

"I would like to thank Hidayath Department Store, Nawaloka Hospital, eDoctor, Amana Takaful, Mobitel, Multifit Jim, Calorie Count and Eser marketing for their partnership in providing exclusive discounts for Harcourts Pharmacy Loyalty Card customer. The loyalty program is design to enhance our footfall and to sustain our existing customers with us."

The Harcourts Pharmacy chain, the biggest network of its kind with 35 dedicated pharmacies island wide, hopes to expand its network to 50 branches by the end of 2017.