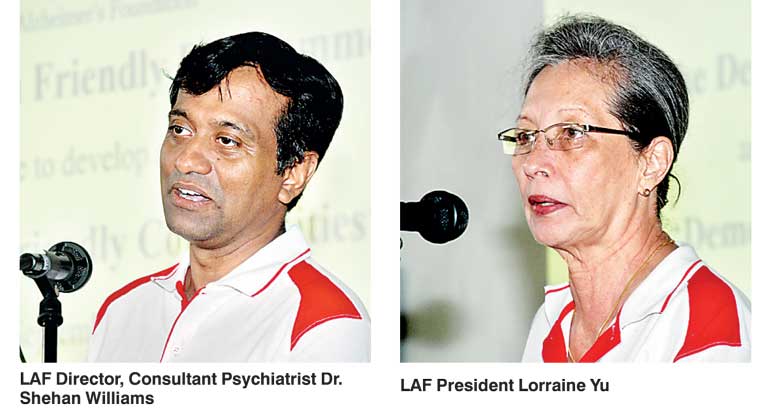 The toll Alzheimer's disease inflicts on the lives of those it ensnares is terribly unrelenting and tragic. Some, like former US president Ronald Reagan, suffer a cruel twist of irony and forget every detail of what are truly unforgettable lives. Others, whose condition may have inflated to include the cluster of symptoms that is dementia, face not only memory loss but risk getting lost and straining relations with friends and family.

Globally for the past four years, September has been assigned the title of 'Alzheimer's Awareness Month' with 21 September being marked as 'Alzheimer's Day'.In consideration of this fact, the Lanka Alzheimer's Foundation (LAF) has been leading local awareness action, launching a number of initiatives during the month driven along the themes of 'Fighting Dementia Together' and creating 'Dementia Friendly Communities'.

These ongoing efforts have not only seen LAFestablish a number of awareness desks at several public sitesbut have also given life to the 'Dementia Friendly Program'. According to LAF President Lorraine Yu, the project seeks to generate dementia-friendly communities.

Yu says that with dementia estimates in Sri Lanka slated to rise dramatically from its present figure of 147,000, it is crucial for greater focus to be paid to those battling with the condition.

"The Dementia Friendly Program focuses on improving inclusion and the quality of life of people who have dementia. So the foundation's key strategy is to work with people afflicted with dementia and to develop dementia-friendly communities and dementia-friendly service providers," Yu explains.

Yu says that this is critical because 'when people understand those suffering from dementia then they can have empathy for them and this makes things easier'.

LAF outlines a dementia-friendly approach as one which helps those burdened with the condition gain inclusion and control over their lives by empowering them and recognising their contribution. Businesses and service providers such as supermarkets, police stations, hospitals, pharmacies, etc. with the dementia-friendly tag will be capable of responding positively to those suffering from dementia.Additionally, institutions certified as dementia-friendly will bear a trilingual sticker establishing this fact.

The Dementia Friendly Program will also see LAF designating Dementia Friends to raise awareness in tandem with the foundation. Currently, the most notable personality from this group of volunteers is present Sri Lankan cricket Captain Angelo Mathews. However, LAF encourages those eager to raise awareness during this month to either pair up with volunteer organisations or work individually to campaign for change. Furthermore, a run entitled 'Run to Remember' was also hosted by Hotel Taj Samudra on Saturday as part of the Dementia Friendly Program.

LAF's President says that such efforts ultimately reveal the truth about a country's social fabric, for, as the age-old adage declares,the true measure of a society is the manner in which it treats its most helpless members.

– Pix by Shehan Gunasekara
​LAF to host lecture by Shanthi Williams on 10 Sept.
As part of its recently-launched Dementia Friendly program, the Lanka Alzheimer's Foundation (LAF) will host a public lecture entitled 'A Journey of Caring', which will be delivered by Shanthi Williams, at the foundation's auditorium on 10 September at 6.00 p.m.

During the lecture, Williams will share her experience of caring for her husband. The Dementia Friendly program is part of a series of initiatives and events being conducted by LAF throughout September, which is marked globally as 'World Alzheimer's Month'.

According to LAF President Lorraine Yu, the Dementia Friendly Program, which was launched on 1 September at the foundation's centre, aims to generate dementia-friendly communities.