Valley Hospital is screening blood for lung malignancy
Following is an article published in 'The Record' on Thursday 25 June 2015, in Hackensack , NJ – USA, regarding Sri Lankan Dr. G.A.P. Ganepola, Vascular Surgeon and Oncologist, on his latest research on Lung Cancer at the Valley Hospital, New Jersey.
---
Researchers at The Valley Hospital and a private lab have developed a 6100 test that they hope will someday help to detect early stage lung cancer when it's most treatable, officials said this week.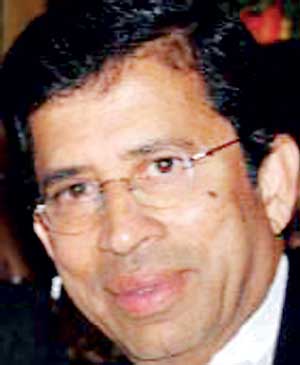 If the preliminary findings are replicated in a larger study, oncologists may have a cheaper, less invasive and more accurate test to diagnose the leading cause of cancer deaths in men and women in the nation.

The research focuses on identifying biomarkers – such as a certain protein in the blood – to screen for cancer at the molecular level.

The field of study under way at the Ridgewood hospital and in many other institutions nationwide is known as precision medicine. Researchers hope that it will radically change the way disease is detected, how drugs are developed, and how treatment can be tailored to an individual based on a patient's genetic makeup to prevent side effects and yield better results.

"It's detected early so the chemotherapy and radiation can better target the cancer," said Dr. Ganepola AP. Ganepola, Director of the Centre for Cancer Research and Genomic Medicine at Valley, who developed the blood test with the Wistar Institute, a private lab based in Philadelphia.

Additionally, Ganepola and other Valley researchers are working to create a similar test to diagnose earlystage pancreatic cancer – one of the most lethal cancers, with only one-fifth of patients surviving for a year because the disease is typically diagnosed at the end stage.

With little change in the death rates for pancreatic and some other cancers for a generation, the pursuit of precision medicine offers hope that mortality rates might improve through better diagnostic tools and more personalised treatment strategies, experts say.

President Obama announced a $215 million plan this year to create a national study group of 1 million people who would be tracked by the National Institutes of Health to improve understanding of cancer and other diseases and develop new treatments.


140 clinical trials

The research at Valley, started several years ago, continues at the Bolger Medical Arts Building in Paramus, which was dedicated last week and is home to the Okonite Research Center and the Valley Medical Group's cardiac surgery program. The Linwood Avenue site previously housed Community Blood Services.

A total of 140 clinical trials are under way at Valley to explore new devices to improve cardiac treatment and to discover drugs to better target heart disease, cancer and strokes. Valley was one of two sites in the state last year to implant a pacemaker one-tenth the size of a conventional device – about the size of a vitamin – which is now going through the Food and Drug Administration's approval process.

Valley is also one of several North Jersey hospitals pairing with researchers at leading institutions - including the Mount Sinai system, which includes seven hospitals and the Icahn School of Medicine - to participate in larger trials sponsored by the National Institutes of Health, said Sonia Kleiner-Arje, Director of Research at the Okonite Centre.


Better accuracy

The blood test, which would require the larger study before it could be presented to the FDA for approval, is more convenient and accurate than the low-dose CT scans that now detect cancer, according to Ganepola, a lead author of the study published last month in Oncotarget, an online medical journal.

CT scans can't confirm cancer, but they do detect nodules in the lung. About half of smokers 50 and older who undergo routine screening for lung cancer are diagnosed with nodules, but only a fraction of the nodules are malignant, Ganepola said.

In cases where it is difficult to distinguish a benign nodule from a malignant one, patients are often prescribed follow-up CT scans on an annual basis, which increases radiation exposure, Ganepola said. Based on the size, shape and other factors of the nodule, radiologists recommend some patients for surgical biopsy.

"There are many people who stand to benefit from a better diagnostic test for lung cancer," said Dr. Qihong Huang, a researcher at the Wistar Institute, who also is an author of the study published last month.

In creating the test, researchers focused on cancer testis antigens (CTAs) a family of genes often found in tumour cells that circulate in the blood. After analysing 116 different CTAs, the researchers identified a certain protein as a potential marker that could distinguish between patients with and without "non-small cell" lung cancer, the most common form.

If diagnosed early, the five-year survival rate is more than 50%. But survival rates drop to just 5% if the disease is diagnosed in advanced stages, according to the published study.

Once it was identified in the blood, the researchers tested their findings on 264 blood samples from patients with lung cancer and 135 control samples. The test was 97% accurate, researchers found. Over the next few years, the study will test blood from 800 people diagnosed with lung cancer at Valley and several facilities worldwide, Ganepola said.


Individualised care

At the new facility, researchers have been at work searching for biomarkers by analysing specimen samples from blood and tissue. Hospital crews gutted the former blood bank and installed high-tech lab equipment, including centrifuges to separate blood products to extract essential DNA pellets.

Eight large freezers keep samples as cold as minus 80 degrees Celsius, protected by backup power generators and cell phone calls to staff if they fail. The centre stores 60,000 specimens for cancer and cardiac research, a repository not typically found at a regional medical centre.

Ultimately, physicians could have the potential to develop individualised treatment plans for cancer patients, offering specific drugs targeted to their patient's tumour type. There are currently a few biomarkers used to detect illness, such as the CA-125 test to diagnose ovarian cancer. It detects a protein, but is not accurate enough for screening of all women because many non-cancerous conditions can increase the level of that protein.

"In spite of everything we have done, millions of dollars of research, we have not seen improvement on the mortality of too many cancers," Ganepola said. "We had to look into another way to cure cancer."