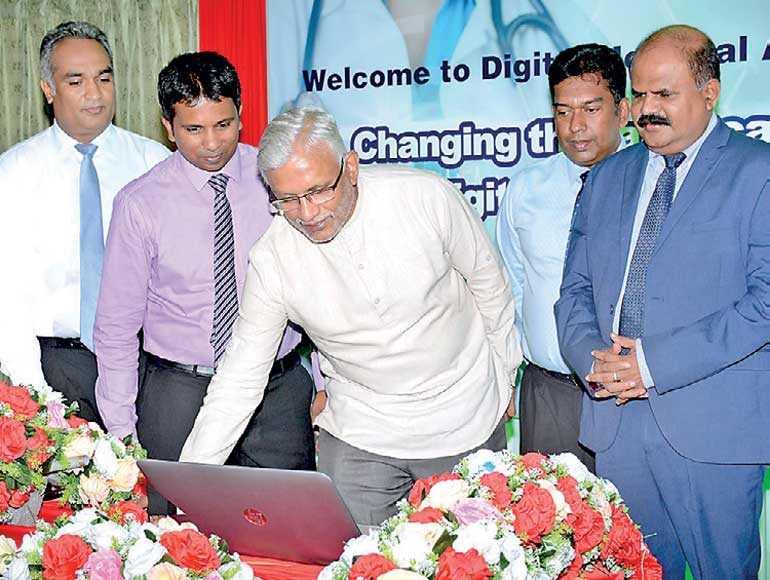 Official launch of 'eChannelling for Government Hospitals' by Ministry of Telecommunication, Digital Infrastructure and Foreign Employment Secretary Wasantha Deshapriya. Also present from left: ICTA Sri Lanka Director of Projects Indika de Zoysa, Chief Medical Officer in charge of Digital Hospital Project and Ampara General Hospital Dr. Sampath Dematapaksha, Ampara General Hospital Director Dr. P.K.C.I. Jayasinghe and Sri Lanka Telecom and Mobitel Chairman P. G. Kumarasinghe Sirisena
For the first time in history eChannelling PLC launched its service at Ampara General Hospital, marking it as the first district hospital in Sri Lanka to have the service.

eChannelling PLC, the largest doctor channelling network in Sri Lanka, along with Mobitel, and Information and Communication Technology Agency of Sri Lanka (ICTA) have embarked on a national endeavour – 'eChannelling for Government Hospitals' – as a service provider for OPD time reservation at Government hospitals.

This project is carried out under the guidance of the Ministry of Health, Ministry of Telecommunication and Digital Infrastructure and Foreign Employment, and ICTA to build a healthier nation by upgrading the existing health care system in Sri Lanka and enhancing its position in global rankings.

This historic partnership will vastly facilitate smooth access to medical care for government hospital patients. eChannelling believes this service will enhance convenience for government hospital patients and save time and energy spent waiting in queues.

Patients can make OPD time reservation via 0715 225 225 from any network without waiting in queues for OPD treatment in government hospitals, thanks to eChannelling's digital platform. The service is offered free-of-charge. The time reservation facility has been extended to the internet (www.echannelling.com) and smartphones (eChannelling App), boasting the latest technology for further convenience of users.

This service offers greater convenience for hospitals as they are able to enable modern healthcare facilities through technology to the general public free-of-charge. This would also help hospitals to better utilize physical infrastructure and human resources more effectively and efficiently. This service also greatly benefits patients as it saves them time otherwise spent waiting at the OPD for hours, and keeps the hospital informed in advance about their service requirements. The facility will be launched island wide in the future as a national endeavour to revolutionise the health care sector and build a healthy nation.

Boasting a network of 200+ recognised hospitals, more than 5,500+ doctors, over 2,000+ outlets and coverage of any telecommunication network, eChannelling is the easiest way to channel a doctor; dial 225 from anywhere at any time.

Mobitel, the National Mobile Service Provider, has taken digital healthcare to the next level by including eChannelling PLC into its portfolio and strengthening its vital position in the telecommunications industry in the country.