Before Hon Lik invented the e-cigarette, a device now shaking up the Big Tobacco industry, he was a pharmacist in China struggling to quit a two-to-three pack a day smoking habit.

Once in 2002, Hon forgot to remove a nicotine patch from his stomach before bed and had nightmares all night. He traced it to the continuous dose of nicotine and then realised it was precisely that steady release that made patches inadequate for him.

Without the sharp nicotine highs he got from smoking, he found there was no relaxation or stress relief.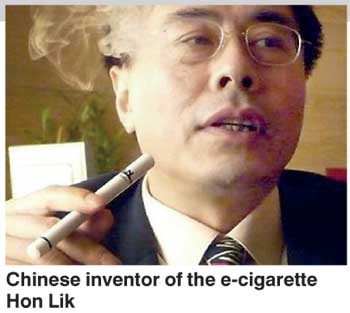 Armed with a background in Oriental medicine, knowledge of mechanics and an interest in electronics, Hon set out to make something that would mimic smoking – without the deadly smoke.

His drive was galvanised further when his father, also a smoker, was diagnosed with lung cancer shortly afterwards. He died in 2004.

"I believed that if I could use vapour to simulate cigarette smoke, this could help me," Hon told Reuters.

13 years on from those nightmares, the 59-year-old stopped off in London after participating in a global summit in Warsaw on nicotine as the father of the most disruptive technology the industry has seen. He is also now employed by one of its biggest players, Imperial Tobacco Group, following Imperial's 2013 purchase of Hon's business.

Imperial, the world's fourth-largest tobacco company, will become a major e-cigarette player in the United States following its purchase of the Blu brand in a deal expected to close this week.

E-cigarettes, which heat nicotine-laced liquid into vapour, have ignited a global market for 'vaping' products that could top $ 7 billion this year.

In the absence of definitive studies about the long-term health effects of vaping, they are the subject of great debate.

Tobacco giants including Philip Morris International, British American Tobacco and Japan Tobacco are also racing to enter the market as governments race to control it.

Cloud-chasers

Authorities in Wales on Tuesday proposed a new public health law that would ban e-cigarettes in enclosed spaces like offices and restaurants following similar moves in Ireland and elsewhere.

Some regulators fear e-cigarettes could lead non-smokers to vape or even smoke, while proponents say bans discourage smokers from switching.

"E-cigarettes are a consumer-driven revolution," Hon said, noting the array of products now on the market that address the needs of various groups, from people wanting to cut back or quit smoking to a new band of recreational 'cloud-chasers' who use nicotine-free vapour to blow the biggest and densest clouds.

"When automotive manufacturers first started out, they were not thinking about a sport to be called Formula One. You always have groups of people who are looking for excitement," Hon said of the cloud-chasing phenomenon.

Although most e-cigarettes are manufactured in China, the market there is very small and tobacco smoking remains high. China is by far the world's biggest tobacco market, and is a virtual monopoly dominated by state-owned firm China National Tobacco. Some estimates peg revenue from tobacco sales as making up as much as 10% of the government's coffers. Yet Hon could soon see more people in his home city of Beijing vaping, due to this month's implementation of strict rules on smoking in public places.

Anyone who violates a ban on smoking in restaurants, hotels, schools, hospitals and in certain outdoor public places must pay a 200 yuan ($ 32.25) fine. That is 20 times the current, albeit rarely enforced, penalty.

Hon said second and third-tier cities in China could follow Beijing's lead as governments seek to improve public health.

"I understand the market is slowly changing," said Hon, who now only smokes when his job requires him to compare the flavours of various tobaccos and vapes. "What could happen to the Chinese market could be similar to what's happening here."