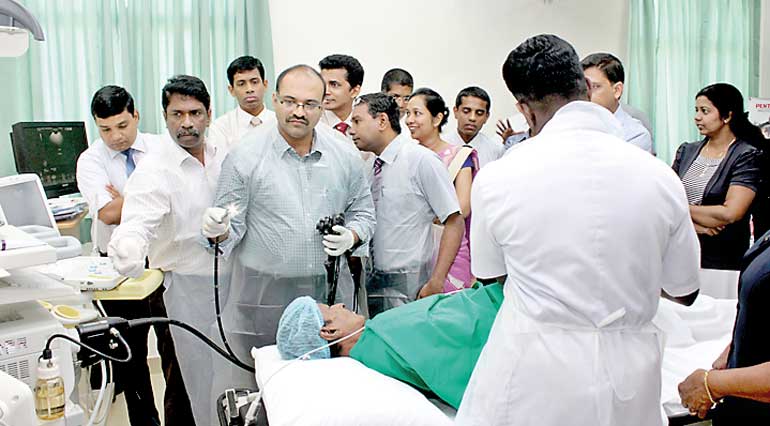 Browns Hospital Ragama recently conducted a very informative and successful workshop on Endoscopic Ultrasound Scanning (EUS) with the participation of over 20 Consultant Surgeons, Gastroenterologists and Gastroenterological surgeons.

The EUS Workshop was conducted at the Browns Hospital Endoscopy Unit, performing 12 endoscopic and colonoscopic ultrasound scanning procedures enabling surgeons present to interact during the session and observe the live cases demonstrated at the workshop.

The EUS workshop was jointly organised by the Department of Surgery, Faculty of Medicine, University of Kelaniya, Browns Hospital and Biomed International. The Guest Speaker at the event was Dr. Ravindra B.S., a reputed Gastroenterologist from India. Welcoming the participants, Professor Ranil Fernando, Head of the Department of Surgery, University of Kelaniya stressed the importance in application of advance technology in diagnosis and treatment of gastrointestinal illness.

Sharing his expertise at the EUS workshop, Dr. Sumudu Kumarage, Consultant Surgeon of Colombo North Teaching Hospital explained the topics covered in the workshop such as, how to operate the EUS machine, endoscopic US scanning of stomach pancreato biliary, system and rectum.

Explaining Endoscopic Ultrasound Scanning in simple layman's language, Endoscopic Ultrasound Scanning involves the insertion of a thin tube through the mouth, down into the stomach and duodenum. At the tip of the tube is a small ultrasound probe that emits sound waves. These sound waves bounce off of the surrounding structures, such as the stomach, small intestine, pancreas, bile ducts, and liver. These sound waves are then recaptured by the probe and converted into black and white images that are then interpreted by the doctors.

Commenting on the success of this workshop, Browns Hospitals Head of Medical Services Dr. Sanjaya Gunatillaka stated, "Browns Hospital will always support technological advancements in patient care. This workshop is yet another step in that direction."

Launched early this year, the fully-fledged, 70-bed, multi-speciality Browns Hospital in Ragama is equipped with the latest technology in medical diagnostics comprising of a modern endoscopy unit, ultrasound scanning, CT and MRI scanning, and advanced medical and surgical therapeutic technology.

The newest venture of Brown & Company PLC, this multi-speciality Hospital is the first in a chain of secondary care general hospitals and diagnostic centres which are dedicated to provide high quality care through comprehensive, integrated clinical practice and personalised care, to every patient.

Browns Hospital Ragama has a high profile medical team of highly qualified and recognised visiting consultants in all specialties and in-house doctors as well as highly experienced nursing staff. Qualified nurses from both the private and government sector strengthen the nursing care at Browns Hospital Ragama.