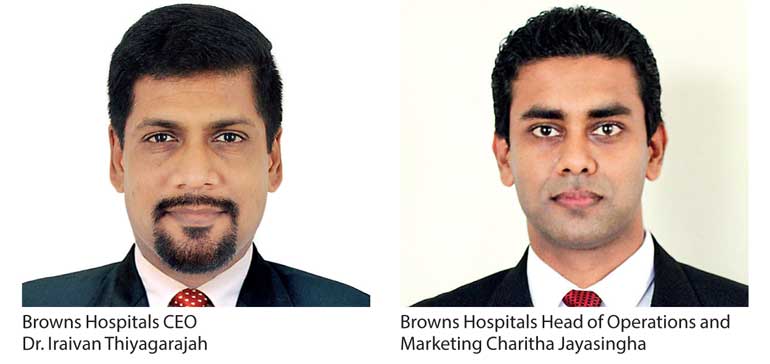 Browns Hospital Ragama has been awarded the ISO 9001:2015 Quality Management System, the most widely accepted quality management system around the world and one which has gained rapid acceptance internationally as well as locally as a foundation for quality products and services in the healthcare industry.

This is a significant milestone in the hospital's history as the first healthcare institution to receive the ISO 9001:2015 certification, under the latest revised standards.

"As CEO of Browns Hospitals, I am honoured and proud to have achieved this milestone for the hospital, and I strongly believe that all stakeholders, consultants, public, patients, suppliers will too benefit from this accreditation. I also wish to note that this is the first Business Unit under Brown & Company PLC, to be awarded the ISO9001:2015 certificate. We are committed to ensuring that services are of the highest quality and delivered in par with international standards and at the most affordable price. The ISO 9001:2015 certification will help form and build activities around fulfilling the hospital's needs, and will assist in achieving organisational goals now and in the future," stated Browns Hospitals Chief Executive Officer Dr. Iraivan Thiyagarajah.

First in a chain of secondary care general hospitals and diagnostic centres, Browns Hospital Ragama, is at the forefront of providing high quality healthcare and is recognised for its efforts in improving the level of care patients receive. This commitment has aided the hospital to constantly deliver expert care to the communities it serves.

The hospital is equipped with the latest medical diagnostic technology, including modern CT and MRI scanning, and advanced medical and surgical therapeutic technology. Furthermore, the introduction of high quality diagnostic centres with deeper geographical penetration and easy access will support early diagnosis of various non-communicable as well as communicable diseases.

The ISO 9001:2015, Quality Management award, in the healthcare industry is measured via three main components; Quality Control, Quality Assurance and Quality Improvement. And in addition strict guidelines are adhered to in assessing if the organisation's level of performance is in relation to established standards and as to if the entity seeks methods and avenues in which to maintain constant improvement.

Sharing his sentiments on the above mentioned, Dr. Thiyagarajah stated: "At Browns Hospital we have maintained a steady track record of offering innovative and value added services. The recently launched, Haemato-Oncology Unit, Dental Care Unit, state-of-the-art Kidney Care Unit, the Maternity and Childcare Unit and the regular community projects are testimony to aforementioned. Our new ISO certification certainly reflects that spirit of innovation."

With plans underway to launch the second of its chain in Negombo, Browns Hospitals, aims to extend the same stringent practices, methods and quality in all the products and services it offers. And go on to obtaining International accredited standards such as the Joint Commission International (JCI) USA.

"We are extremely proud of our team and their efforts to attain the ISO 9001 certification. It means that quality is not just a concept, but a reality. ISO 9001 certification reflects our commitment to quality and our commitment to our customers. This also adds value to the fact that our customers can have confidence that Browns Hospitals is committed to quality and outstanding customer service," stated Browns Hospitals Head of Operations Charitha Jayasingha.

"From entry to exit, we make sure that every single customer experiences an unparalleled, hassle-free systems and processes. The quality management system implemented at the hospital encompasses all functional areas and follows naturally and sequentially from the customer related functions through the operational to the delivery or discharge function so as to meet the specified requirements of customers," further stated Charitha.