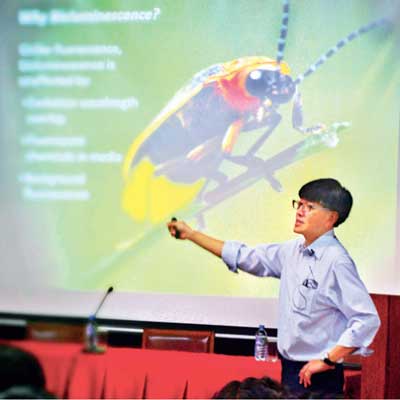 Avon Pharmo Chem Ltd., a leading laboratory supplier in Sri Lanka conducted a seminar on latest tools and techniques on drug discovery and cancer research at Industrial Technology Institute recently. The titles included Nextgen Luciferase for protein dynamics and cell Signaling, Advanced Technologies for monitoring Cell Health, NanoBRET and NanoBiT for Analysis of Protein Interactions, Cancer Immuno Therapy. The ITI scientists of herbal technology, Biotechnology and Food technology divisions and representative scientists from Universities of Kelaniya, Peradeniya and Colombo were also present at the seminar.

The resource person was Dr. Nicholas Ng, a Scientist and the General Manager of Promega, Singapore branch. Dr. Radhika Samarasekara, Additional Director General of ITI chaired the event and expressed pleasure of sharing the knowledge of ITI on drug discovery initiatives at ITI and commended the sharing of the Promega's cell based drug discovery tools and techniques which could be used in near future researches.

Dr. Nicholas expressed his gratitude over the cordial welcome and interest on the topics discussed and he promised the technical product and services support of Promega for Sri Lankan scientists interested in genomics, Proteomics, drug discovery and forensic research. Avon GM Dilip Fernando said, "Avon being a leading biotechnology provider to the scientists, it is our social responsibility that we should support the dissemination technological knowhow to the community from our side and we will continue to do this." More information could be received from www.avonpclk.com.