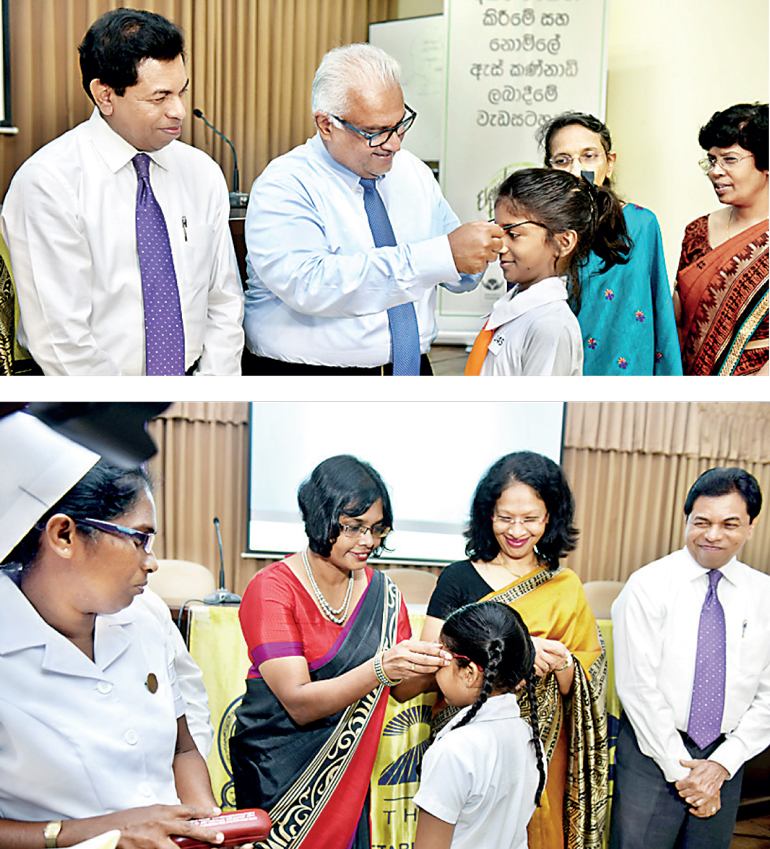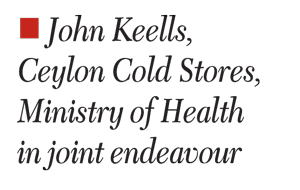 "My vision is really bad, I can't see letters or read without wearing glasses. With these spectacles, I can now look forward to my dream of becoming a teacher," said one child who was the recipient of a brand new pair of spectacles at a ceremony to launch the vision screening and provision of free eye glasses to school children of the Colombo District under the patronage of John Keells Foundation and Ceylon Cold Stores PLC in collaboration with the Department of Health Services of the Ministry of Health.

As an estimated 1% of the Sri Lankan population suffers from blindness, there is a dire need to provide efficient eye care services especially during childhood where often vision impairments may be corrected or mitigated with early intervention.

John Keells Foundation – the corporate social responsibility (CSR) entity of the John Keells Group – already espouses the cause of vision and has been involved in supporting Sri Lanka's endeavour to work towards the eradication of cataract by year 2020 which is the primary cause of preventable blindness in Sri Lanka. Since its launch in 2004, the John Keells Vision Project has conducted vision screening for the benefit of needy individuals across Sri Lanka who lack access to timely eye care and helped restore the sight of over 9,000 cataract patients through sponsorship of surgeries. Meanwhile over 2,000 spectacles have also been donated.

It has been decided to support the school children's vision project as an extension of the John Keells Vision Project. John Keells Group Company Ceylon Cold Stores has come forward to partner John Keells Foundation in sponsoring the cause of enhancing eye care services under the school screening program including the provision of approximately 3,600 prescription eye glasses per year.

As a first step towards achieving this goal, the first batch of 100 spectacles were given to needy school children in the Colombo District who had been identified previously with low vision or refractive errors. The event was held at the Family Health Bureau in anticipation of World Sight Day falling on 8 October. Children ranging from 5 to 18 years of age were present along with their parents and their teachers and came forward eagerly to receive their spectacles, providing them with a clear and brighter vision.

Speaking at the event, Vision 2020 Program Health Services and National Focal Point Director General Dr. P.G. Maheepala said, "Under the Vision 2020 program, we have received immense help from John Keells, especially in terms of cataract surgeries whereby we have provided sight to many who previously could not see. This is certainly a good deed as we have given them a new life. Now providing spectacles to our children gives me great pride as they are our future."

The objective of the School Screening Program is to screen school children in the country and provide spectacles to deserving children free of charge. There are over four million school children in 10,000 government schools in Sri Lanka. John Keells Foundation in collaboration with Ceylon Cold Stores PLC have agreed to support this important cause through strengthening the process and providing financial assistance at various points of the process including intensive screening of the children with the support of school health officers and John Keells staff volunteers, obtaining prescriptions for spectacles and other necessary treatment for visual problems, manufacturing and distributing spectacles to needy children and facilitating treatment for other visual problems in the children.

CSR Head of Operations Carmeline Jayasuriya said, "This initiative is extremely important to us, having been involved in providing cataract surgeries for elderly persons since 2004. It is our hope that we can prevent or mitigate such instances by addressing vision impairment during its early stages and empower our children to realise their full potential as leaders of tomorrow."

As we commemorate World Sight Day, John Keells hope that through these initiatives, they are able to significantly contribute to reducing the number of persons suffering from preventable blindness via more efficient screening, eye care services and the provision of surgeries and spectacles to correct vision impairments in the elderly as well as the young.