From left: Rehabilitation Services MJF Charitable Foundation Head and NCCCPDD Director Gopi Kitnasamy, Dilmah CEO, MJF Charitable Foundation and NCCCPDD Director-Trustee Dilhan C. Fernando, World Vision Lanka National Director Dr. Dhanan Senathirajah and SARVA Creative Head Nishantha Shantha Deva at the press conference of disABILITY app launch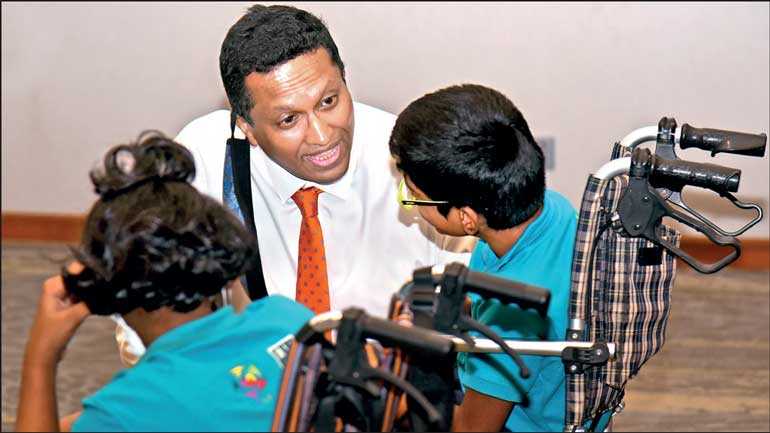 Dilmah CEO, MJF Charitable Foundation and NCCCPDD Director-Trustee Dilhan C. Fernando conversation with disable child
---
Children with disabilities can enjoy free services with one click
Teletherapy App in detail with more features
Experts provides guidelines on therapies and handling children with disabilities
disABILITY app is now available on App Store
---
By Safna Malik
---
Bringing awareness about a community that has been abandoned, forgotten and are oftentimes neglected by society, The Merrill J. Fernando Charitable Foundation (MJFCF) and its partners introduced a teletherapy app called "disABILITY'' recently.

The MJFCF has joined hands with Microsoft, Millennium IT, Sarva Integrated, and World Vision to unveil their latest initiative and celebrate the Worlds Cerebral Palsy Day with affected children.

Addressing the launch MJFCF Trustee and Dilmah CEO Dilhan C. Fernando said Worlds Cerebral Palsy Day is a perfect day to talk about children who are affected by Cerebral Palsy and to launch a unique app that would help them lead a happy and normal life.

"With the evolution of technology, a teletherapy app is what we need at times of Covid-19 pandemic to reach out for children who are locked in their rooms and isolated from the community due to their disability," Fernando said.

He stated that even during the lockdown period, MJFCF therapists and teachers at centres work hard to maintain the progression of kids by giving proper guidelines to parents through social media platforms.

Through their evaluation of online therapy feedbacks, MJFCF decided to create an app which stemmed from techniques that were used in regular therapies in physical centres and he also mentioned the support of Microsoft Sri Lanka and the Maldives who provided the Azure services to the app and Millennium IT who developed the app by adapting their Health Vision platform to assess, diagnose and continue online therapy for CP affected children.

Fernando also pointed out that the 'disABILITY' project focuses on emphasising the ability of people who are considered disabled and that it seeks to grow awareness of the estimated 40,000 people with Cerebral Palsy in Sri Lanka, 17 million around the world and others with Down syndrome or other developmental disorders.

Fernando said his father, Dilmah Founder and Settlor of the MJF Charitable Foundation Merril J. Fernando, conceived the idea of a business that would help restore the fortunes of his country's ailing tea industry, while sharing the benefits of that business with the community.

Fernando also stated that his father believed that no business could succeed without the involvement and commitment of workers, staff, clients, consumers and in the case of tea - the environment. Additionally, he was determined that his business should be a matter of human service and that success is a blessing from God and like any blessing, must be shared.

"Words cannot express our excitement at the possibilities in this app – it is a collaboration that will enhance the quality of life for thousands. Many families suffer the stigma of people who lack an understanding of developmental disorders and their pain is intensified by a lack of access to knowledge and advice.

"We want to extend the service that the MJFCF offers in fulfilling the philosophy of my father – Dilmah Founder, Merrill J. Fernando, by delivering these essential therapies and support to people who cannot afford those services. There is no greater fulfilment for a business than to see its efforts touch the lives of marginalised children and youth. Our sincere appreciation to all our partners in this project," Fernando added.

MJFCF Head of Rehabilitation Services Gopi Kitnasamy said the app is designed to support and reach out for children and people with disabilities in remote parts of Sri Lanka.

He explained that the app is multi-lingual; available in Sinhala, Tamil and English to offer quality teletherapy services to people with Cerebral Palsy (CP). The app includes guided disability and development screening, access to paediatricians, early identification and intervention, therapeutic, educational and rehabilitation assistance and allows caregivers to monitor progress with guidance from the MJFCF's multi-disciplinary team.

The app aims to share knowledge, therapies and services for children with disabilities in different regions of Sri Lanka where access to transport, regular therapy and other services are limited.

He also affirmed that the app is now available on the PlayStore and that they are in the midst of the process to make it available for iOS users on the App Store soon. It is designed intuitively based on the age of the person and its services are available via an interactive platform on any smartphone.

Explaining about the risk factors of Cerebral Palsy, World Vision Lanka National Director Dr. Dhanan Senathirajah said, "as one of the largest international NGOs to operate in Sri Lanka, we decided to partner with MJFCF to bring awareness to Cerebral Palsy; it is one of the needs which we have identified in our society and now we have an opportunity to reach such children and give them the fullness of life. As a community, we should rise together to build the next generation. Strive forward towards making a change with these children." Among people with disabilities, children are especially vulnerable as undetected disabilities in their early years and delays in rehabilitative initiatives can lead to delays in development. Early identification can help foster stimulating environments where families, health-care and education professionals are better prepared to support the development, inclusion and active participation of children with disabilities. The disABILITY App will bridge the gap between families with persons with disabilities and will help provide the necessary services remotely.

Recognising the need for grassroots acceptance of the app in rural areas – World Vision will pilot the app, introducing it in marginalised communities in which the organisation operates.

Sarva Integrated Creative Director Nishantha Shanthadeva said, "It's a pleasure to work so closely with these kids on campaigns and I had a wonderful experience. Even though I was able to spend a short time with these kids, it's surprising that I was able to understand their language through their emotions. These children are sensitive; they need more attention and love. As a nation, despite religions and cast, we should accept and support children who are disabled or mentally challenged."

He also said they have designed and produced an infomercial to inform people and to help Sri Lankans overcome the stigma and isolation of people with disability.

While sharing information about the app, a national campaign conceptualised by Sarva also was launched simultaneously to support awareness and inclusion of Cerebral Palsy.
---
Pix by Ruwan Walpola
---