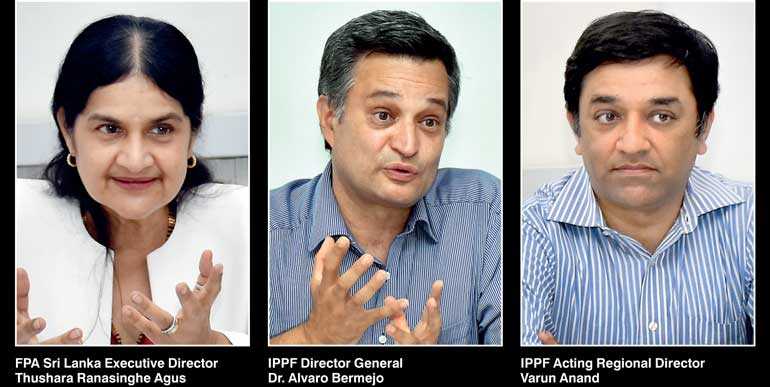 By Fathima Riznaz Hafi

Family planning has been promoted and practiced for some time now in Sri Lanka. As a result of successful family planning, Sri Lankan families have become smaller and the ageing population is bigger. Though an ageing population can be cause for concern, International Planned Parenthood Federation (IPPF) Director General Dr. Bermejo assures that Sri Lanka is still at a healthy place as the fertility rate is within safe limits, whereby replacement is consistent.

"I think that at a fertility rate of between 2.1 and 2.5 (each couple is having on average 2.1 to 2.5 children – so about two children per couple), it is a little bit above replacement or at replacement. That rate will lead to an ageing population but not to the degree that we are seeing in Japan, Korea, Spain (my country) and in others where that's gone down to 1.5. There the rate of dependency between those that are economically active and those that have already retired is getting too skewed. I think Sri Lanka is still far away from that," he told Daily FT. "We were having that discussion with the Government and they were saying let's make sure it doesn't go down to 1.5 – to where it is in Spain or Japan – let's make sure it stays hovering between the 2.1 and 2.5 – that's where it is now. I would argue that that is a healthy place to be. You still have a lot of young people coming into the job market here in Sri Lanka; I know you have got youth unemployment down a lot – you are still in a healthy place," he added.

Dr. Bermejo was speaking at an interactive session with the media at the Family Planning Association of Sri Lanka (FPASL) headquarters recently, during his first trip to the country, as Director General of IPPF. Also present at the session were FPASL Executive Director Thushara Ranasinghe and IPPF Acting Regional Director Varun Anand.

The International Planned Parenthood Federation (IPPF) is a global non-governmental organisation that aims to promote Sexual and Reproductive Health and Rights (SRHR). IPPF works in close collaboration with Family Planning Association of Sri Lanka (FPASL) to address SRHR through a rights-based and gender-sensitive approach.

Dr. Bermejo assumed his role as Director General of IPPF on 1 March. A medical doctor by profession, he has vast experience of 20 years as a senior executive in global federations, working across HIV and AIDS, humanitarian issues and health policy.

This was Dr. Bermejo's first trip to Sri Lanka after his appointment as Director-General six months ago but not his very first trip here; he had come to the country in 2012 to attend the Global Fund to fight AIDS, TB and Malaria (GFATM) board meeting.

This time around, Dr. Bermejo was in Sri Lanka eager to study our success story in family planning so that he could use it as an example when approaching countries that are still struggling with the issue. Also noting the areas in which the country lacks progress, he met multiple stakeholders from the Government, civil society, healthcare delivery system and community leaders to discuss IPPF's commitment towards strengthening healthcare delivery in Sri Lanka, and the significance of Sexual and Reproductive Health and Rights (SRHR).

A learning trip

"I see this as a learning trip and as an opportunity to come back to Sri Lanka. It's a pleasure to be here six years later, and see what seems like an incredible step forward that the country has taken since my last visit and to see that success continues in many ways," he said.

Sri Lanka is the first of several countries that he will be visiting, with the purpose of studying how we tackled and overcame issues such as HIV prevention, family planning, sexual and reproductive healthcare and humanitarian issues, and using our stories as an inspiration to guide the countries that are still failing to cope.

"I was appointed only six months ago and started this job on 1 March. I asked the team to allow me in the first six months to travel to countries that were successful and to see the work of member-associations that were successful. I felt I'll have time in the future to identify the failures and the ones that are not going so well. Let me start by getting inspired and looking at countries that have done well in family planning, HIV prevention and countries where the member association – the Family Planning Association has played an important role in achieving that.

"And that's how Sri Lanka came top of the list for this region – it is the first country that I have visited in Asia as meeting those criteria that I had set out – a success story for the last two-and-a-half decades in family planning! Of course that doesn't mean that there are no challenges – but there is overall success when compared to others in the region and others outside the region. And equally a success in keeping HIV numbers low and in doing that at the same time as the country transitions into becoming an upper middle income economy."

"So I really wanted to see that – I've spent the last two-and-a-half days visiting the delivery sites of FPASL, looking at the work with key populations, the HIV prevention work that is being done, talking to beneficiaries of the services and talking to the Government officials that FPASL works with; as well as visiting pharmacies and trying to understand the social marketing program that constitutes the backbone to an extent of FPASL.

"And I do that because I think Sri Lanka has been shy as a country to really engage internationally and show that success; I think a lot of us could have learnt more from what has been done here; and I want to be part of supporting Sri Lanka in doing that and I'm very glad that last week it decided to join the international community in the Family Planning 2020 partnership; because I think it will learn a lot from your experience."

Dr. Bermejo noted that though Sri Lanka has succeeded in certain areas, there are still challenges we need to overcome. He met several officials and organisations to discuss some of these challenges. Among the topics discussed was the new generation of girls. "As a large new generation of young girls become sexually active and enter reproductive age we need to find a way to cater to them as they are different in their approach to the world and maybe to the older generations – we need to find out how we can manage to understand that; and that has been a very interesting debate," he said.