Sri Lanka Tea Board Chairman Jayampathi Molligoda symbolically hands over the first batch of Ceylon Tea branded face masks from the first lot of production to Ministry of Foreign Relations Secretary Admiral Prof. Jayanath Colombage (centre) on 29 September, in the presence of (from left) Sri Lanka Tea Board Promotions Director Pavithri Peiris, Sri Lanka Tea Board Market Promotion Officer Gayan Samaraweera, and Ministry of Foreign Relations Director General Kaandeepan Bala
---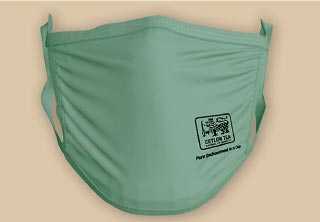 An example of the Ceylon Tea branded face masks dyed with the use of Ceylon Tea Dye
---
Having the objective of increasing the awareness of Ceylon Tea as a global brand, the Sri Lanka Tea Board has started distributing Ceylon Tea branded face masks among the business community worldwide on a complimentary basis. In collaboration with the Ministry of Foreign Relations, arrangements have been made by the Sri Lanka Tea Board to dispatch Ceylon Tea branded face masks to over 75 Sri Lankan missions around the world.

The specialty of the Ceylon Tea branded face mask is that it has been dyed with the use of Ceylon Tea Dye, which is a by-product of ice tea manufacturing. With a re-usability of over 30 washes, additional benefits include natural antimicrobial (AATCC 100) properties, bio-degradability, eco-friendliness and non-toxicity.

The responsibility of distributing face masks to the end consumer has been taken by the Sri Lankan missions overseas. Tea Associations, Tea Restaurants, International Exhibitions, Metro Stations, Government and Private Business Stake-holders, Tea Distributors, World Class Supermarket Chains and other public places such as the Bandaranayake International Airport and Mattala International Airport have been targeted to distribute face masks.

Sri Lanka Tea Board Chairman Jayampathi Molligoda, symbolically handed over the first batch of Ceylon Tea branded face masks from the first lot of production to Ministry of Foreign Relations Secretary Admiral Prof. Jayanath Colombage on 29 September. Ministry of Foreign Relations Director General Kaandeepan Bala, Sri Lanka Tea Board Director Promotion Pavithri Peiris and Sri Lanka Tea Board Market Promotion Officer Gayan Samaraweera, were also present.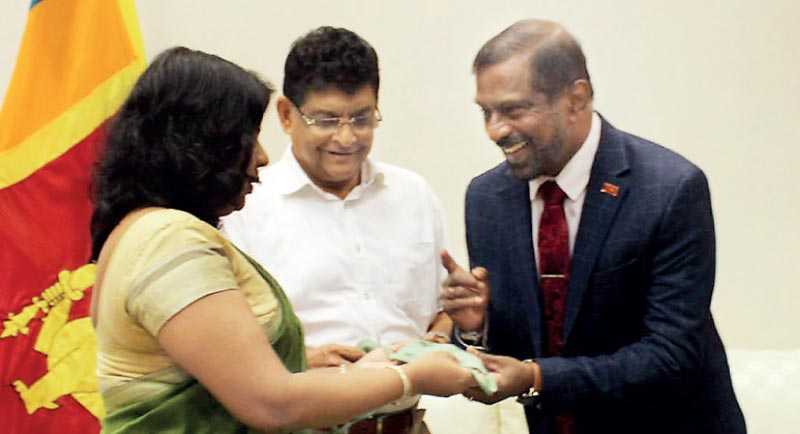 Sri Lanka Tea Board Promotions Director Pavithri Peiris hands a mask to Ministry of Foreign Relations Secretary Admiral Prof. Jayanath Colombage (right) while Sri Lanka Tea Board Chairman Jayampathi Molligoda looks on
---