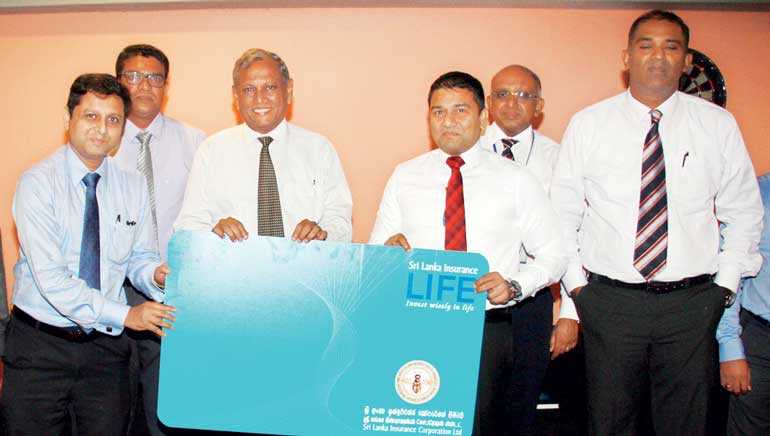 The MoU was exchanged at a function held at the SLIC head office recently. Seen (from left): Medilink Country Manager Debabrata Ghosh and Finance Manager Jerry Figurado, SLIC's Chairman Hemaka Amarasuriya, CEO Chandana Aluthgama, Chief Officer – Life Suresh Paranavithana and Chief Information Officer Aloka Jayawardene
Sri Lanka Insurance signed a Memorandum of Understanding with Medilink Lanka Ltd. recently which would enable the leading insurance company to provide cashless cards to its insurance policyholders who obtain health cover.

Accordingly, policyholders who have signed up for the SLIC's Comprehensive Plan, Overseas Comprehensive Plan and Comprehensive D+ plan for diabetics will now receive a card via Medilink. It would enable them to seek treatment at Medilink-registered private hospitals and get their bills settled at the moment of discharge through the cashless card subject to policy conditions.

The new card system will replace the previous system of reimbursement of medical bills after settlement by customer at the discharge. Hospital admittance can now be done by merely producing the SLIC – Medilink card and calling a Medilink representative on 0117 400 600, 0112 393 960, 0777 268 786, 0777 268 787, 0777 699 361.

This would be a great convenience for the policyholders as it's extremely difficult for most of them to settle huge hospital bills when they are being discharged from a hospital even though it may be reimbursed later.

Sri Lanka Insurance, with over five decades of service to the nation, is the island's largest and strongest insurer. It recently declared a Life Insurance Bonus of Rs. 6.8 billion, the largest in the industry to date and can claim an Assets Base of Rs. 190 billion, again the largest in the insurance industry. The company has a network of over 120 branches and plans to expand it further during this year to provide even better services to its customer base.

It is the first insurance company in the country to have been assigned a global rating for financial stability, AA+ (lka) from Fitch Ratings, London which is an assurance of the company's long-term financial sustainability. The company has also been awarded ISO 9001:2015 certification for correct governing and operational procedures in line with accepted global standards.

Medilink International is a leading provider of medical support and consultancy services to clients across the world. This strategic tie-up between these two organisations is expected to benefit both parties and ultimately, the health policyholders of SLIC.