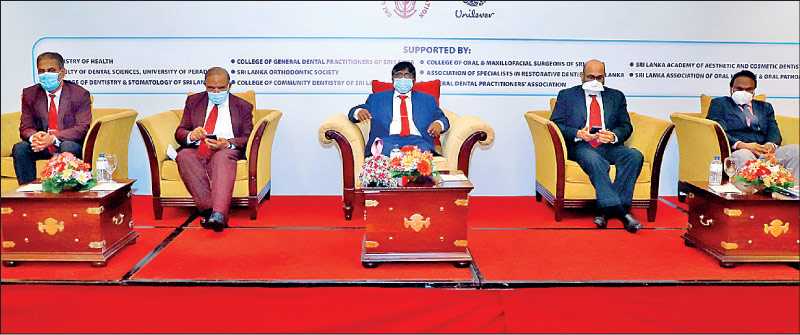 Key delegates seated at the head table from left: SLDA General Secretary Dr. Vipula Wickramasinghe, SLDA President Dr. A Sundar, Chief Guest former Director General Health Services Dr. J.M.W. Jayasundara Bandara, SLDA Treasurer Dr. Ramesh Kanna and Cancer Epidemiologist and Board-Certified Consultant in Dental Public Health Dr. Hemantha Amarasinghe
---
The COVID-19 pandemic has nudged people to reprioritise their overall health and wellbeing, reorientating towards healthier habits overall. However, this positive shift did not translate into better oral care, a cornerstone of physical health.

A global research commissioned by Unilever found that two in three (64%) people admitted they are not worried about their oral health, despite 70% having experienced oral care issues such as tooth pain and cavities since the COVID-19 outbreak.

In this context, the Sri Lanka Dental Association (SLDA), FDI (Fédération Dentaire Internationale – World Dental Federation) and Unilever Sri Lanka came together on World Oral Health Day (WOHD) 2021, to highlight the importance of oral health on overall health in a pandemic struck world.

One key highlight of the celebrations was the launch of a publication on oral health issues during the pandemic titled 'Your Oral Health in the Presence of COVID-19.' The book, which will be made available to all dental professionals, was launched in keeping with this year's WOHD global theme 'Be Proud of your mouth'.

Compiled by the SLDA, the book focusses on how oral health in Sri Lanka has gradually diminished due to the change in people's habits during the pandemic and highlights good oral habits each person can adopt in their day-to-day lives to improve their oral hygiene.

In his welcome speech, SLDA President Dr. A. Sundar said, "COVID-19 has changed the lives of everyone not sparing the dental industry. Dental professionals the world over call the consequences of the pandemic on people's oral health a dental disaster. Higher incidence of tooth decay and more advanced gum diseases have been reported. People have changed their routines, skipping twice a day brushing, snacking between meals at home and not visiting the dentist."

He further stated, "Dentists have always abided by the most stringent infection and prevention protocols and have devised hygiene measures mandated by the government during COVID-19. Despite this many people have still avoided routine check-ups and only visited the dentist once they are in extreme pain. oral health is of paramount interest to ensure general health, wellbeing and a good quality of life."

Speaking as the chief guest at the event, former Director General of Health Services Dr. Jayasundara Bandara said: "During COVID-19 many Sri Lankans didn't seek dental care due to de-prioritisation of oral health. If this continues, we estimate nearly 16 million Sri Lankans will have an early chance of developing an oral disease. Therefore, an islandwide, community-oriented oral health service should be implemented and later expanded into programs that screen individuals at all levels. It is only through initiatives like this that we can truly ensure good oral health and hygiene."

As a key partner of the event, Unilever Sri Lanka Director Marketing – Personal Care Nilushi Jayatileke said, Unilever, in line with its sustainability agenda had pledged to uplift oral health and hygiene standards in the country through its oral health brands. As the leading fast-moving consumer goods company it is vital that we combine our expertise, communication and community knowledge to raise awareness and promote oral health and hygiene in the country with an aim to spread smiles across Sri Lanka. It is with this interest at heart that we have partnered with the FDI and the SLDA for over 15 years to educate people on the importance of good oral hygiene practices, provide free toothpaste and toothbrushes and conduct dental screenings and treatments through our camps across the country. We will continue our collective efforts to uplift oral health and hygiene in the country and spread smiles.

World Oral Health Day is celebrated on 20 March each year to create worldwide awareness of the issues surrounding oral health and the importance of oral hygiene for both the young and old. Organized by the FDI World Dental Federation, its global partner Unilever and global supporters Wrigley, Planmeca and 3M, together with each country's local dental association, the event is targeted at individuals, school groups, youth organisations, oral health professionals, governments, and policymakers to champion better oral care for all.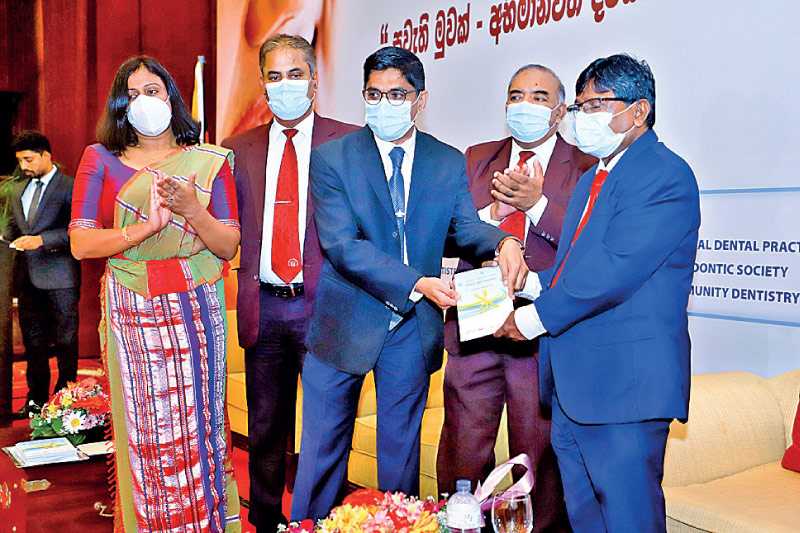 College of Community Dentistry of Sri Lanka President Dr. P.L.P Jayashantha handing over the first publication of the book on oral health during COVID-19 to Chief Guest former Director General Health Services Dr. J.M.W. Jayasundara Bandara. Also present from left: College of Community Dentistry of Sri Lanka Secretary Dr. Iresha Udayamali, SLDA General Secretary Dr. Vipula Wickramasighe and SLDA President Dr. A. Sundar
---