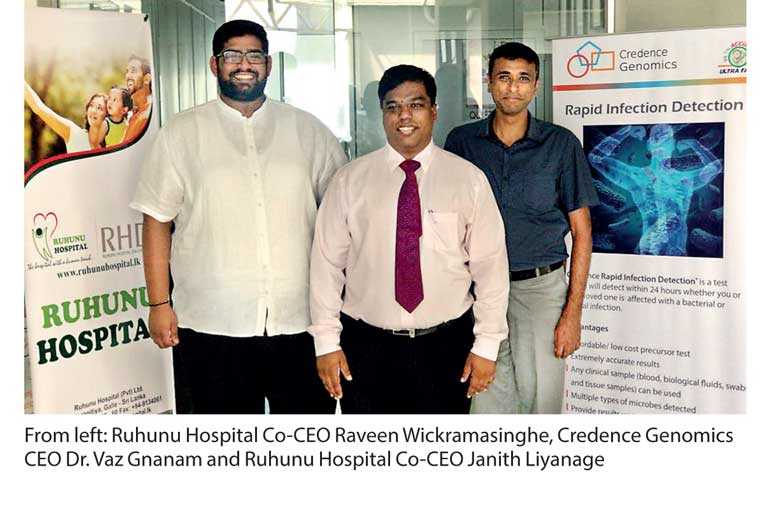 Ruhunu Hospital Ltd., a trusted name in Health Care in the Southern Province, invests in Credence Genomics, a company that is changing how diagnostics is done and has paved the way for the future by using Next Generation Sequencing (NGS). Moreover, it is a pioneer in locally commercialising genomic tests based on (NGS) technology.

NGS is cutting edge due to its speed, accuracy and the comprehensive nature of test results. The Company has developed tests to diagnose critical non- communicable diseases (NCDs) such as cancer, heart diseases and infectious diseases, and screening tests to assess the susceptibility for the same.

Ruhunu Hospital Co-CEO Raveen Wickramasinghe said: "Since December 2015, with the launch of Ruhunu Hospital Diagnostics (RHD), the vision of the company is to be the laboratory service provider of choice by offering advanced technology, exceptional health information delivery, and superior customer services of the international standard. Today I am thrilled to state that a Sri Lankan company is taking an initiative in cutting edge technology."

"The key determining factor for our investment has been the Apollo Contract that has been secured. While we were focusing on our Due Diligence we were very pleased with the team and especially the CEO, Dr. Vaz Gnanam, the visionary scientist who made this come true. Vaz and I have become business partners as well as friends throughout the last few months and I am confident that with the support of myself and the management of Ruhunu Hospital we can attract more investments and bring along strategic partnerships to the business. We are also excited to see the product innovation and expansion of the laboratories in the South Asia region," Wickramasinghe noted.

Credence Genomics CEO Dr. Gnanam said: "It's a pleasure to work with forward thinking entrepreneurs in the healthcare space. Ruhunu is poised to be an innovative healthcare infrastructure and service provider with their support of dynamic and strategic collaborations."

"The two Co-CEO's Raveen Wickramasinghe and Janith Liyanage understands the immediate opportunities of working with Credence Genomics along with a grasp on the bigger picture of the local and international healthcare space," he added.