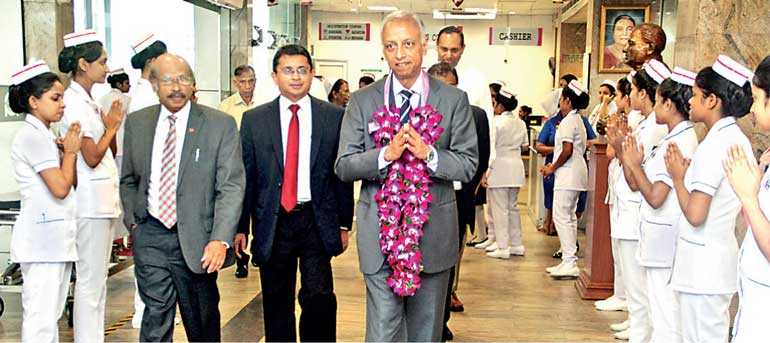 Welcoming the Chief Guest Prof. Sir Sabaratnam Arulkumaran by the hospital staff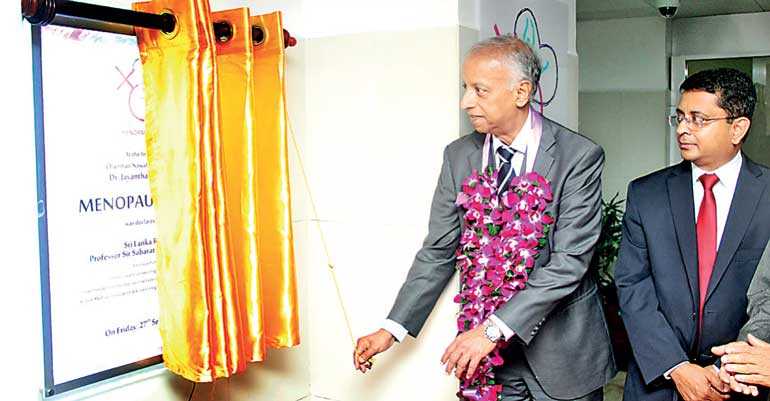 Chief Guest Prof. Sir Sabaratnam Arulkumaran unveiling the plaque to open the clinic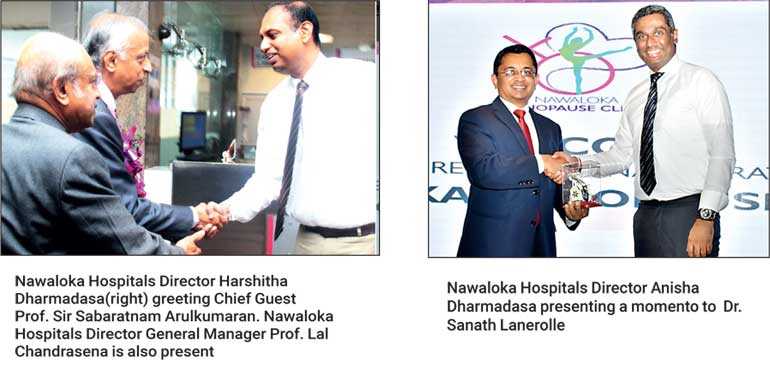 ---
Sri Lanka's premier private healthcare provider, Nawaloka Hospitals, recently inaugurated a speciality centre for menopause at the hospital premises. The centre was declared open under the patronage of renowned Sri Lankan gynaecologist, 'Sri Lanka Ranjana' Professor Sir Sabaratnam Arulkumaran.

Launched as a part of Nawaloka's Serene Health Screening Center, the centre is equipped with world-class medical technology and operated by a highly experienced panel of top consultants and medical specialists. The centre aims to ease the natural journey of menopause and help women better handle the physical and psychological symptoms brought about by it.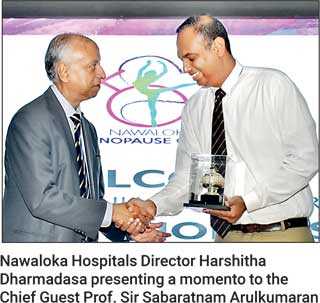 Menopause is a natural part of every woman's life. It is an unavoidable fact that all women go through, which occurs with the inhibition of the female hormone production by the ovaries. Oestrogen, the female hormone which stimulates female characteristics at puberty and controls a woman's reproductive cycle gradually decreases with age. While there is no exact age, women experience symptoms from age 40-55.

Founded by Deshamanya H.K. Dharmadasa, Nawaloka Hospitals entered the state-dominated healthcare sector in 1985 as the first private hospital in Sri Lanka to offer tertiary healthcare services. Since then, the hospital has garnered heavy local and international recognition and pioneered numerous advanced clinical developments including the introduction of South Asia's first 640 slice CT scanner.

Over three decades, the group expanded from its primary facility in Colombo to a state-of-the-art healthcare facility in Negombo and a fully-equipped Medicare Centre in Gampaha, along with an island-wide chain of medical diagnostic laboratories.

The ISO-certified healthcare provider, in 2018, also launched a mega, state-of-the-art specialist centre with fully-equipped units and over 500 expert consultants covering multiple disciplines. Nawaloka Hospitals is currently listed on the Colombo Stock Exchange and is the only private healthcare provider in Sri Lanka to have earned the coveted 'baby-friendly' status from the World Health Organization.

The Menopause Centre will be open weekdays from 7 a.m. to 5 p.m.
-Pix by Indraratne Balasuriya