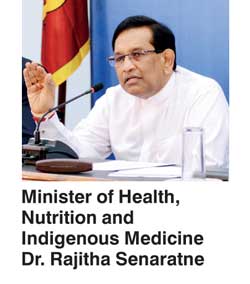 Minister of Health, Nutrition and Indigenous Medicine Dr. Rajitha Senaratne has said that measures have been taken to establish the National Stroke Center at Mulleriyawa Hospital.

Minister Senaratne disclosed this while serving as the Chief Guest of an event held to launch the register of stroke patients in Sri Lanka recently at the Colombo National Hospital.

Speaking at the event, the Minister said that steps have been taken to establish stroke centres throughout the country.

The Minister of Health added that a stroke has been identified as a major cause of paralysis among adults and care must be taken to eliminate the causes of strokes, something the Government has taken several steps to ensure.

According to health reports, the prevalence of strokes in Sri Lanka is 10 per 1,000 people and it is a leading cause of disability and death.

The Minister said the impact of strokes on the economy and families was very powerful therefore hospital facilities have been upgraded for stroke patients.

"We must also focus on the rehabilitation of the patients after strokes. It is also important to educate the general public about the actions that need to be taken to curb the disease. That includes lifestyle changes and emergency management," the Minister said.

Director General of Health Services Dr. Jayasundera Bandara, Deputy Director General Dr. Champika Wickramasinghe, Colombo National Hospital Director Dr. Anil Jasinghe and a team of specialist doctors were present at the occasion.