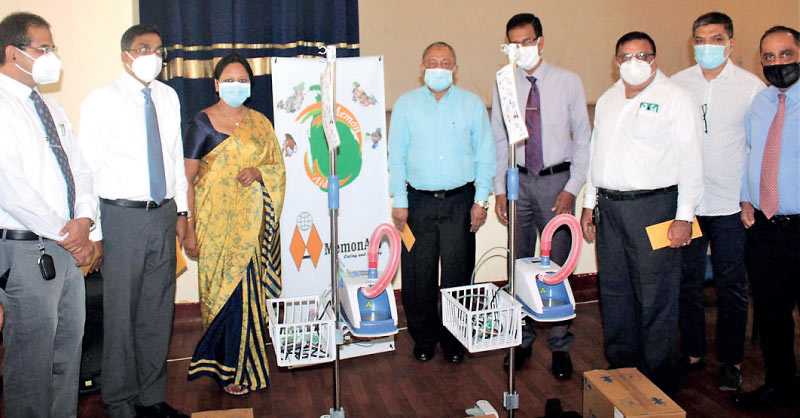 Director of the Hospital Dr. Priyantha Karunaratne, Deputy Director Dr. Muditha Perera, Consultant Chest Physician Dr. Amitha Fernando, Consultant Chest Physician Dr. Aflah Sadikeen, Charities Network Rizan Nazeer, Memon Aid Ameen Bhaila, Hanif Yoosuf and Afzal Sattar
---
Following an urgent appeal made by consultant chest physician, Dr. Aflah Sadikeen, a commendable venture was undertaken by a charity organisation, Charities Network along with the support of Memon Aid.

The appeal was made in view of the increasing number of COVID patients at the Colombo East Base Hospital Mulleriyawa. According to Dr. Sadikeen, a growing number of patients have been allocated to the hospital's ICU and HDU. "It's so increasingly challenging and worrying as the number of young patients are getting very sick needing more ICU care," he said.

Understanding this urgent need, Charities Network undertook the project and the arduous task of looking for a means of fulfilling this requirement. The organisation is thankful to Memon Aid – another humanitarian charity organisation for volunteering to donate two high flow nasal oxygen machines and a pressure infusion bag worth Rs. 2,350,000.

Memon Aid which was founded following the tsunami in 2004, is devoted to driving forward disaster management projects. They have been involved with major projects since their inception, and have executed many around the country.

They complimented The Charities Network and Memon Aid for coming forward at this needy hour to fulfil this appeal. As Sri Lankans they are happy and proud and urge more organisations to volunteer and support COVID patients.

Director of the Hospital Dr. Priyantha Karunaratne, Deputy Director Dr. Muditha Perera, Consultant Chest Physician Dr. Amitha Fernando, Consultant Anesthetist Dr. Rachini Vithana, Consultant Chest Physician Dr. Aflah Sadikeen, Consultant Anesthetist Dr. Priyanthi Alagiyawanna, Consultant Physician Dr. Manori Bandara, Consultant Physician Dr. Ashfaq Mohomad, Medical Officer Planning Dr. Lasun Vithana, Matron Dhammika, Chief Pharmacist Dula Darshani, College of Chest Physicians President Dr. Kasun Vithana and ICU In charge Nursing Officer Lalani, members of the Memon Aid Ameen Bhaila, Yaseen Bhaila, Hanif Yoosuf, Afzal Sattar, Iqbal Sattar and Charity Network Rizan Nazeer and Rimzi Nazeer also were present.