By Shannon Jayawardena

Cricketing legends Mahela Jayawardene and Kumar Sangakkara last week joined a nationwide school awareness campaign on violence against women in partnership with the Ministry of Education and the European Union.

Minister of Education Akila Viraj Kariyawasam, European Union Ambassador Tung-Lai Margue and Gender Specialist Sriyani Perera joined Jayawardene and Sangakkara to speak to over 100 schoolchildren about the continuing high levels of violence directed against women and girls in their daily lives.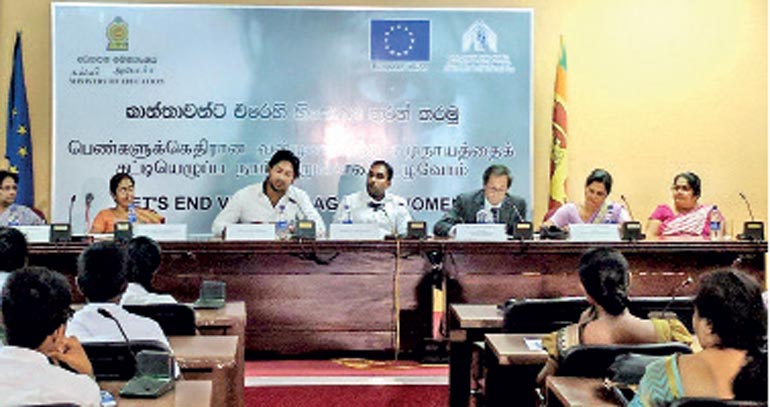 "It is not the way that a woman dresses that defines her but what's on the inside that truly matters," said Mahela.

He further addressed the young schoolboys at the conference, telling them it was very important to respect all women and that one should never judge a woman by her outer appearance.

Statistically three-fifths of women are abused in Sri Lanka while over 90% of them have been sexually harassed in public transportation. Meanwhile, 30%-40% of women today suffer from some kind of violence, while more than 60% across the country are victims of domestic violence. They are routinely harassed both verbally and physically and according to a report by the United Nation Population Fund (UNFPA), gender-based violence and harassment is pervasive across socioeconomic groups.

"This problem in Sri Lanka is a true problem and has been so for years," said Sangakkara. He too spoke to the young students present at the event, asking them "to stop violence against women. I as well, must join with all of you, but to only speak about it is not enough, to take action is very important."

"The Government of Sri Lanka is strongly committed to the elimination of violence against women and has taken significant steps to combat its prevalence," said Minister Kariyawasam.

"However, it still requires consistent and concerted efforts to challenge and change attitudes and behaviours that normalise and reinforce violence against women. I'm really grateful that Mahela and Kumar have been willing to give their time to highlight that this sort of behaviour is completely unacceptable," he added.

"We were delighted when Kumar and Mahela agreed to become our envoys for women's rights. It's really important that Sri Lankan men hear from such role models about this serious and deep-rooted issue," said Ambassador Tung-Lai Margue.

The conference also showed that domestic violence plays a significant role in violence against women, for it affects children in a crucial context. Hence as a result, they grow in hatred towards themselves and society.

The panel also added that it was important for parents to create a closer relationship with their children as it was vital to correct them and teach them the true values of humanity such as respect for all and an equal society at a very young age.

Minister Kariyawasam and Ambassador Margue also introduced a video featuring Jayawardene and Sangakkara, which will be circulated to schools in the country to increase awareness of the problem. The video was produced by the European Union (EU) delegation to mark the International Day for the Elimination of Violence against Women.