Lanka Hospitals PLC, a premier health care provider in Sri Lanka, announced its latest addition to the Centres of Excellence – the Male Wellness Centre (MWC) – in a bid to offer services to improve health and wellbeing of men. It's also significant that a fully-fledged wellness centre dedicated solely for men has been established for the first time in Sri Lanka.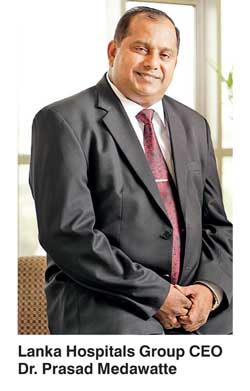 Often men who play the role of breadwinner in a family, tends to neglect their own health by prioritizing the needs of the family. Further, hospitals and medical institutions pertaining to both public and private sector facilitate dedicated centres to address health issues of women, children as well as senior citizens, and have not considered establishing a centre solely for addressing health issues of men.

Likewise, medical awareness programmes covered by the main stream media too focus on popular ailments such as diabetes, cardiac related issues as well as cancers, and rarely bring health issues of men to notice. As a medical institution in the forefront of private health sector, Lanka Hospitals took these factors into consideration and established a fully-fledged dedicated centre to uplift the health and wellbeing of men.

The MWC caters to a host of services including personnel fitness scheduling and programming, sport health and injury management, dietary and nutritional advices, premarital counselling and health screening, management of premature ejaculation, management of erectile dysfunction, cosmetic surgeries (bariatric/ocular/dental).

In addition to the general health screening, patients can obtain screening for liver, kidney, respiratory, cardiac, diabetic, endocrine-hormonal, cancer and sexually transmitted diseases in addition to substances abuse and alcohol abuse. Furthermore, apart from leading physicians MWC offers the service of competent consultant specialists such as cardiologists, endocrinologists, diabetologists, venerologists, urologists, nephrologists, oncologists, surgeons, vascular surgeons and psychiatrists as well as counsellors.

As an award winning hospital bestowed with local as well as international accreditation time and again, Lanka Hospitals provide latest medical technology to detect and treat all kinds of health conditions. Through its precision screening tests, patients gain the advantage of early detection of any illness which requires medical attention.

Erectile dysfunction (impotence) is a common health issue suffered by men, defined by the difficulty in maintaining penile erection during sexual intercourse. In the Sri Lankan context, the issue is hardly brought into light especially by those who suffer and often show reluctance to seeking proper medical attention. Often, incorrect and misleading advice not only aggravates the issue, but also lead them to face unwanted complications.

A special SWT unit was established within the Male Wellness Centre by the Lanka Hospitals for a cost of Rs. 8 million, to specifically treat impotence. The Centre conducts in-depth studies and comprehensive medical analysis to precisely identify the causes for impotence such as physiological, systemic, vascular and local – capillary.

As a hospital staying abreast with latest medical technology, Lanka Hospitals established Male Wellness Centre in a bid to provide world class health care services to Sri Lankan as well as International patients. Moreover, when catering to health issues and conditions that are highly sensitive and personal, Lanka Hospitals delivers complete confidentiality to its patients with the assistance of its specially trained staff.