Recently, LB Finance – the people's choice of financial service provider – built and donated a rehabilitation centre (new life rehabilitation centre) for 'Nawa Jeevana Amadyapa Handa Society' located in the Rumassala area.

The 'Nawa Jeevana Amadyapa Handa Society' is a humanitarian society with a 20-year history working with people addicted to drugs. This rehabilitation centre aims to rehabilitate those who are addicted to drugs in the island. LB Finance invested more than Rs. 13 million in order to build this rehabilitation centre. It is a modern and standardised building that offers the relevant support to the process of rehabilitation.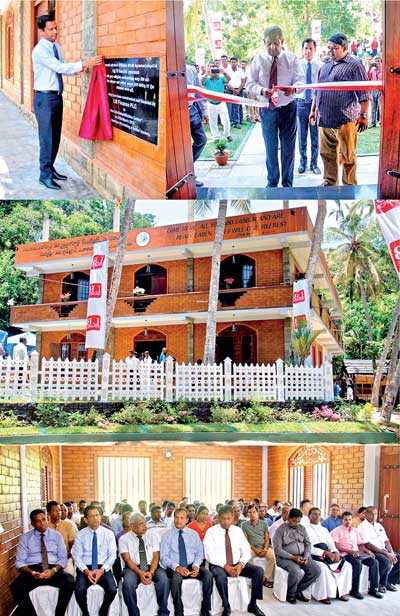 LB Finance Managing Director Sumith Adihetty shared his opinion of the event. He said, "In light of the current drug abuse issue in the island, we feel that this is a timely intervention. As a finance company that is close to the people, always with them in their time of need, we are ideally placed to be involved in such a mission. Our goal is to help each Sri Lankan make a better life, one that is free of worry and stress. We do not feel that providing financial solutions is the only way we can contribute to the Sri Lankan society. Our CSR arm is very strong, and we commit to creating a society that all would be proud to live in and to leave to future generations. Thus, we are happy to be part of this initiative by the Nawa Jeevana Amadyapa Handa Society. We commit to helping those afflicted and will continue to support the organisation with its work."

A worthy investment indeed, the centre looks not only at rehabilitating the inmates but also helping them develop cultural and social skills that will stand them in good stead when they reintegrate to society. LB Finance is proud to be part of the overall project so that those who are residing at the centre can have a better chance at life when they go back to their homes. LB Finance's commitment was to create and provide infrastructure for each stage of the rehabilitation process.

LB Finance understands and appreciates the benefit of changing even one drug-addicted life. Given the immense economic toll of addiction, when one person is helped to overcome this addiction, the economic conditions of the person's family improves. The benefit of bringing one person back into society does not end at that person. It has an impact on the immediate and extended families, the community, and the country. It is because of this understanding that LB Finance is committed to rehabilitating those with an addiction.

LB Finance PLC Managing Director Sumith Adihetty, LB Finance PLC Executive Director Niroshan Udage, and LB Finance PLC Executive Director March Perera were in attendance at the opening event. Other staff members and club members of Nawa Jeevana Amadyapa Handa Society were also present.

At the same event, LB Finance staff members took another step under the 'Thuru Wawamu 50-50 Thousand initiative' by planting trees at this same location. This mission was created to plant 50,000 trees by 2021, to mark the '50th anniversary of LB Finance'. LB Finance is committed to the wellbeing of not only the citizens of the country but to the environment, and is passionate about its sustainability goals and missions. The planting of the trees also symbolises the hope and faith that LB Finance has in the rehabilitation centre and its success in the years to come.