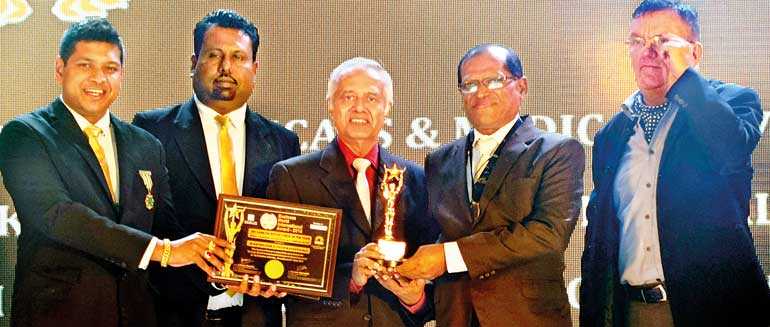 Kanthilanka Pharmaceuticals, the renowned drug store of Wadduwa, Kalutara was the proud winner of the Platinum Award in small scale, pharmaceuticals and medical accessories category at BWIO Business Excellence awards ceremony. The annual event organised by the Business World International Organization, in recognition of remarkable achievements in the business world, was held recently at hotel Taj Samudra, Colombo.

Kanthilanka Pharmacuticals founded by Dr. Ilangage Cyril Kanthisiri Perera who hails from a prestigious Ayurvedic doctors' family in Wadduwa, has a proud history of 34 years. "It is the customers' loyalty and trust that we maintained for so long and the endless dedication of all our staff that made this achievement possible," said

Dr. Kanthisiri Perera who mentioned with much gratitude the support given by his beloved wife Suvinitha Priyaranjani De Mel at the foundation stage and his son Roshan Sanjaya Perera who was a great support in expanding the sales.

Dr. Kanthisiri Perera who is also a counsellor of psychology has been honoured with many titles such as Deshabandu, Deshamanya, Lanka Abhimani, Janabhinandana, Adhyapana Keerithi and Wishawa Sama Senpathy. He is a well-known philanthropist who works in close connection with many temples around Wadduwa and across the island at large to develop temples and promote Buddhism.

Dr. Kanthisiri Perera started his career opening a private clinic in Kurunegala in 1976 and moved to Kanthale later. Having shifted to Wadduwa in 1992,

thereafter, he has practiced for seven years in his medical clinic. Then he devoted his time to found Kanthilanka Pharmaceuticals which was his main business. Plans are ahead to open a private medical centre as 'Seth Arana Medicare' in Wadduwa.

Dr. Kanthisiri Perera who has studied Chinese acupuncture in Sri Lanka as well as in India hopes to fully dedicate himself to Seth Arana Medicare leaving all other businesses to his son.