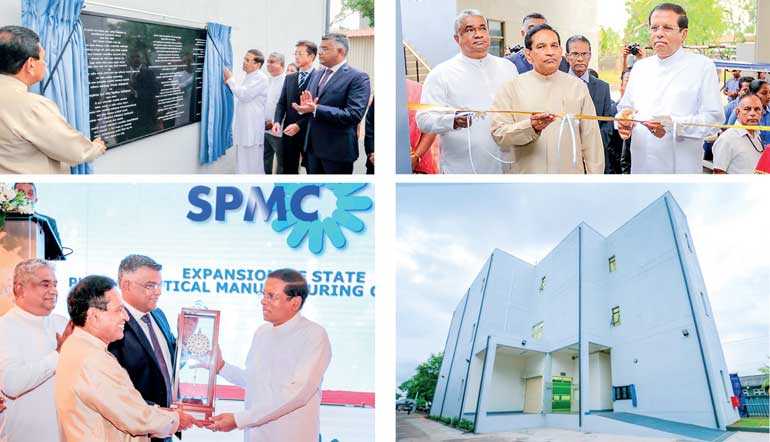 President Maithripala Sirisena on Friday opened the new pharmaceutical manufacturing facility constructed with the intention of further strengthening the pharmaceutical production capacity of the State Pharmaceuticals Corporation (SPC).

The new manufacturing complex consisting of state-of-the-art facilities has been built in the Ratmalana Kandawela area with the funding from Japan International Cooperation Agency (JICA).

The Japanese government has spent JPY 1,240 million ($ 11 million) out of which JPY 910 million has been spent on the machinery for production.

The current production capacity of the State Pharmaceutical Corporation is 1,922 million pills or capsules per year and this project will increase the capacity to 3,337 million pills. It is expected to fulfil around 70 of the drug requirement of the Health Ministry.

In addition to building this factory, the Ministry of Health has signed agreements with 46 local and foreign drug manufacturers to set up pharmaceutical manufacturing facilities.

According to the agreements, three new factories have been constructed in Horana, Kandy and Digana areas and the products are supplied to the Medical Supplies Division. Three more pharmaceutical factories will be opened in the early part of the year 2019. The aim is to locally produce 90% of the drugs needed by Sri Lanka by the year 2020. According to the State Pharmaceutical Corporation, by manufacturing the required drugs locally, Sri Lanka will be able to save more than Rs. 40 billion per year that it spends annually to import medicines.

The President made an observation tour in the new facility after unveiling the plaque and opening the facility.

Minister of Health, Nutrition and Indigenous Medicine Dr. Rajitha Senaratne, Deputy Minister Faizal Cassim and State Pharmaceuticals Manufacturing Corporation Chairman Sayura Samarasundara were present at the occasion.