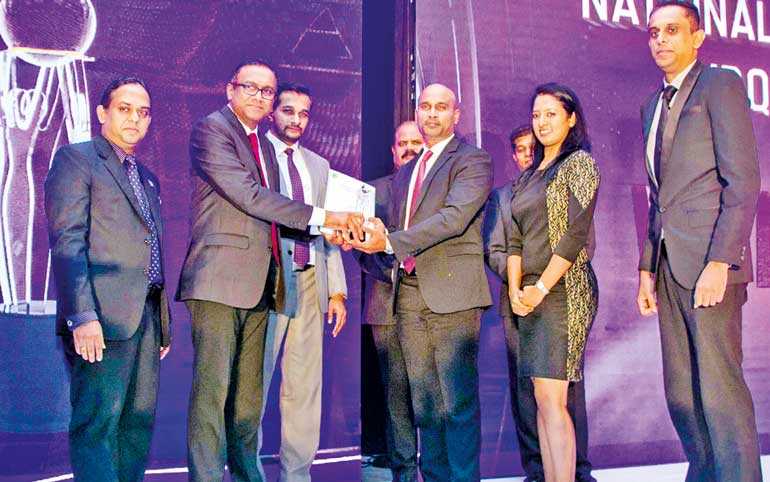 Janashakthi and ayubo.life at NBQSA 2019
Recognition in Health and Wellbeing category for innovative digital Insurance solution by Janashakthi and ayubo.life
Janashakthi's revolutionary Life Insurance solution 'Live Life' emerged a winner at the National ICT Awards 2019 (NBQSA) held recently at the Galadari Hotel. 'Live Life', a wellness-based digital Insurance solution by Janashakthi Insurance PLC and leading lifestyle, health and fitness app ayubo.life emerged a Merit Award winner in the 'Health and Wellbeing in Inclusions and Community Services' category.

'Live Life' enables customers to choose their level of engagement and protection through five products corresponding to five health categories for a monthly premium ranging from Rs. 1,000 to Rs. 5,000. A team of qualified health and wellness experts, including a physician, dietician, and sports scientist guide the customers through their wellness journey to reduce their risk status within the year.

Once the policyholder succeeds in reducing the risk factors within the year, he or she will be rewarded with additional protection benefits with an increased cover for the next year.

Speaking about this achievement, Janashakthi Insurance Director/Chief Executive Officer Jude Fernando stated: "We are thrilled to receive this recognition for 'Live Life' at such a prestigious national forum in the Information and Communication Technology sector.

"Winning this award speaks to the innovative nature of this unique solution, which is the first of its kind in the industry to offer a tangible benefit to our customers for improving their health, along with a unique wellness proposition. Our focus is to empower our customers to live well and engage in a lifelong journey of wellbeing, which is a game changing shift from traditional transactional engagement between an insurer and its policyholder."

The revolutionary 'Live Life' has also been nominated for the prestigious Asia Pacific Information and Communication Technology Awards, which will be held in Vietnam in November. The NBQSA is the only National Level Information and Communication Technology (ICT) competition of this nature organised in Sri Lanka. Started in 1998 by BCS Sri Lanka to benchmark Sri Lankan ICT products, NBQSA is supported by the Government, BCS and private sector organisations.