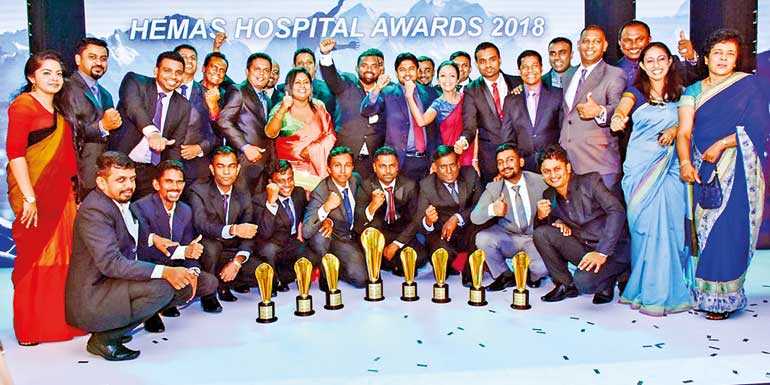 Award winners at the Hemas Hospitals Awards ceremony 2018
ACHSI accredited leading private healthcare multi chain; Hemas Hospitals held its annual employee awards ceremony themed 'Good to Great' at the Grand Monarch Thalawathugoda recently with the participation of Hemas Group CEO Steven Enderby as the Chief Guest, and Hemas Hospitals Chairman Murtaza Esufally as the Guest of Honour. The awards ceremony recognised and honoured employees and teams that excelled in their respective work commitments and contributed to the overall success of the Hospital Group during the financial year 2017/18.


"The year 2017/18 was a momentous one for the Hospital Group during which our clinical and technological capacity as well as our medical expertise grew at a steady and a substantive rate. Our employees played a vital role in facilitating this growth momentum through their dedication, insights and professionalism. Today, we honour their individual and collective contribution," commented Hemas Hospitals chain Managing Director Dr. Lakith Peiris.


Team Pharmacy of Hemas Hospital Wattala, Renal Transplant team of Hemas Hospital Thalawathugoda, Sanjeewani Edirisinghe of Hemas Southern Hospital and Sanath Senanayake of Hemas Laboratory Chain won the Service Excellence Awards. The Service Excellence award honoured teams or individuals that go the extra mile to ensure comprehensive care to patients.

The 'NDB cash collection solution project' won the Most Innovative Project of the year award while the 'Method Improvement and Optimization project' won the LEAN Project of the Year Award. Overall Project of the Year Award was bestowed upon the Laboratory Information Management System (SUKRA) Implementation Project carried out by the Laboratory and IT teams.

Best Nursing Care Giver Award recognises nursing professionals who excel at providing considerate care to patients. K.G. Wimalasiri of Hemas Hospital Wattala, Nimasha Sajeewani of Hemas Hospital Thalawathugoda and Bandara Herath of Hemas Southern Hospital were adjudged Best Nursing Care Givers of the year. 'Supply Chain Cost Saving Project' won the Cost Management Project of the Year award while Hemas Laboratory Chain was honoured with a Special Recognition Award.


Hemas Hospital Wattala became the Highest Performing Business Unit of the Year while the Hospital Group's Human Resources team clinched the Business Partner of the Year award. Employee of the Year recognises exceptional performers from each hospital as well as the Hemas Laboratory Chain.

Bandara Galkaduwa – Maintenance Supervisor of Hemas Hospital Wattala, Shashika Abeysinghe – In-charge Billing Department of Hemas Hospital Thalawathugoda, Namunu Tharanga – Maintenance Supervisor of Hemas Southern Hospital and Champika Dissanayake – Regional In-Charge – Collection Centres from the Hemas Laboratory Chain were recognised as Employees of the Year.

Having become the first hospital chain in Sri Lanka that achieved recognition by the prestigious Accreditation body, Australian Council for Healthcare Standards International, Hemas Hospitals offer advanced and comprehensive care to patients.