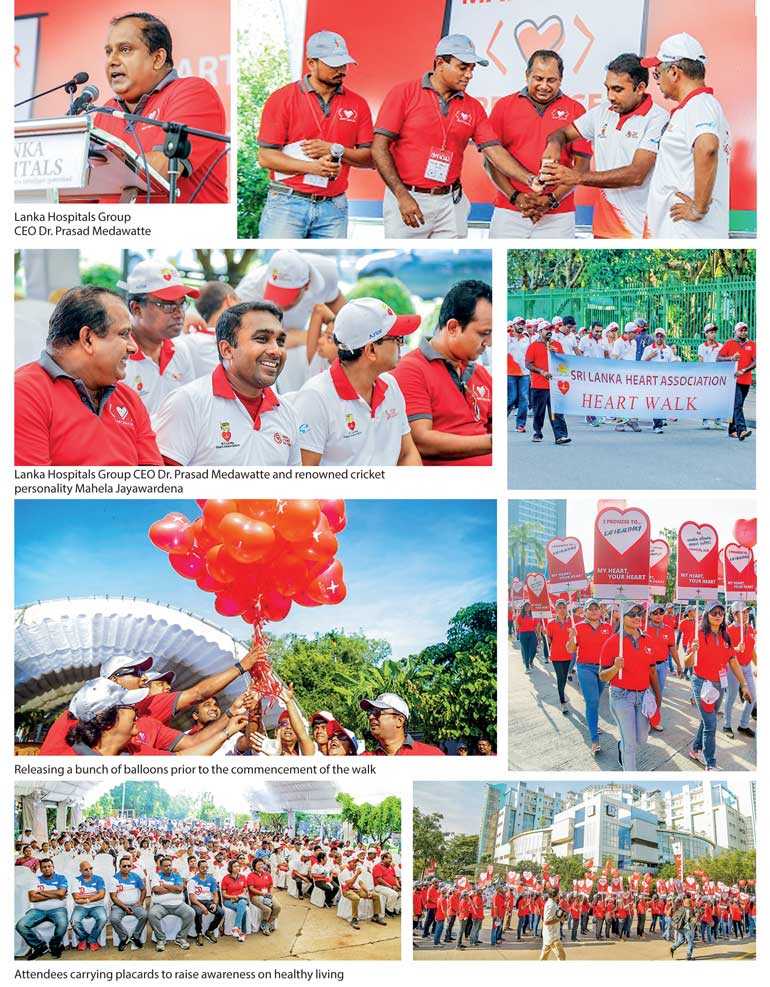 Hosted by Lanka Hospitals together with Sri Lanka Heart Association
Lanka Hospitals Corporation PLC, the world-class healthcare provider, hosted the annual Heart Walk in partnership with Sri Lanka Heart Association recently in view of World Heart Day to raise awareness on heart disease.

Heart Walk 2018 was one of the largest health awareness campaigns in the country to-date, with a participation of a large number of participants including members of Sri Lanka Heart Association, medical staff of cardiology units of other hospitals, school children, the armed forces, police, corporates and well-wishers.

The event was held under the theme declared by the World Heart Federation, "A promise for my heart, for your heart, for all our hearts", to deliver the message on the importance of eating healthy, developing an active lifestyle and saying no to smoking.

"Heart disease is considered the main cause of death in Sri Lanka, with a growing number of young people being diagnosed with heart diseases in recent years. The most common form of heart disease is coronary artery disease which is caused due to various risk factors such as hypertension, smoking, diabetes, high cholesterol, unhealthy diet and sedentary lifestyle. These are factors that can be eliminated by adopting a healthy lifestyle and our campaign is to communicate that message to the public," Sri Lanka Heart Association President Dr. M.R. Mubarak said.

"Lanka Hospitals considers it a great privilege to partner with the Sri Lanka Heart Association to deliver the message of heart disease prevention. As one of the best equipped, state-of-the-art hospitals in Sri Lanka with a full-fledged Heart Centre on par with global healthcare standards, we are fully equipped to serve patients who require cardiac treatment. We believe that as a hospital we have an important role to play in creating awareness about the risks of heart disease and are firmly committed to working closely with the Sri Lanka Heart Association to deliver this message in future," Lanka Hospitals Group CEO Dr. Prasad Medawatte said.

The Heart Centre at Lanka Hospitals is acclaimed for performing the highest number of heart surgeries and a vast number of Cath Lab procedures in the private sector at present and is the only private hospital specialised in conducting paediatric heart surgeries.

The Lanka Hospitals Heart Centre comprises three cardiac theatres where bypass surgery, complex congenital heart defect corrective surgery as well as valve replacement and repair are performed. The Heart Centre houses a ceiling mounted flat panel Cath Lab with Fractional Flow Reserve (FFR) system to perform procedures to precisely detect even minute blockages or narrowing of arteries.

The Cath Lab, which operates 24 hours a day, is backed by a highly qualified, dedicated staff and offers a host of procedures including angiogram, angioplasty with stent placement and pacemaker implantation including ICD and CRT. In addition, the Heart Centre provides facilities to perform exercise ECG, Echo, TOE and 24-hour blood pressure and holter monitoring.