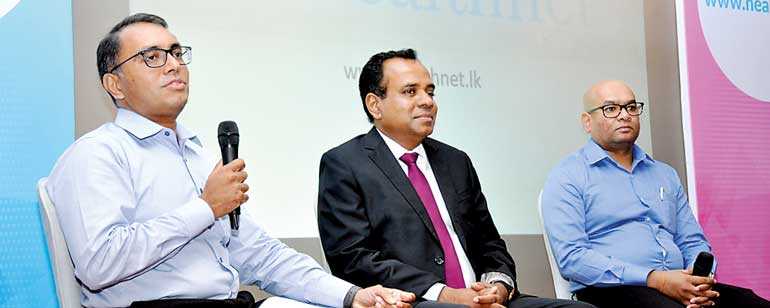 From left: Healthnet Co-Founder and Director Rangika Wijesinghe, Colombo Univrsity Prof. Vajira H.W.Dissanayake and Healthnet CEO and Director Deeshana Basnayake
---
Healthnet, Sri Lanka's first full service e-pharmacy, has upgraded its web platform and added more services to enhance the customer experience. The new website, sporting a fresh new look and offering a host of new features, was launched at a ceremony held recently, in the presence of Professor Vajira H.W. Dissanayake, Chairperson of the Specialty Board in Biomedical Informatics in the University of Colombo.
Healthnet Co-Founder/CEO Deeshana Basnayake said, "Healthnet has grown significantly in a short period of two years to fill more than 17,000 prescriptions and serve over 6,000 satisfied customers. Throughout this period, we listened closely to our customers and identified a number of ways we could enhance our service experience. The new HealthNet process is simpler, more personal, and offers a host of incredible new features."

Research has shown that non-adherence of long-term chronic medication due to factors such as forgetfulness, late monthly refills, delayed doctor visits and non-availability of meds, is a complex healthcare problem. Most often this type of non-adherence leads to dangerous health complications for patients suffering from non-communicable diseases. Healthnet helps customers overcome this situation by simplifying the pharmacy experience. Customers submit prescriptions online, which are then filled out by certified pharmacists and delivered within a period of 24 hours.

Healthnet began operations offering delivery services only within the Colombo city limits, but has now expanded its reach to cover the entire Colombo District, for prescription medication. Non-prescription and over the counter medicines are delivered island wide.

The latest UN estimates, 9.67% of Sri Lanka's population is over 65 years, with this number estimated to increase to 24.8% by 2041. The country is soon going to face the challenges of dealing with an ageing population, especially in the healthcare sector. In this context, services such as Healthnet, utilise technology to optimise the process of filling prescriptions and give patients the opportunity to do so from the comfort of their home.

Healthnet sources all medications directly from licensed importers and authorised agents. Prescriptions are prepared by SLMC certified pharmacists and delivered using temperature-controlled transport units. Delivery is free for orders exceeding Rs. 5,000, while a nominal fee of Rs. 150 is charged for deliveries within Colombo 1-15, and Rs. 250 for Colombo suburbs. Healthnet adheres to regulations and guidelines stipulated by the National Medicine Regulatory Authority – Ministry of Health.

Healthnet Co-Founder/Director Rangika Wijesinghe added, "Our new website is more than just a fresh new logo and layout. It also offers customers a number of new features, including automated refills, dose reminders, managing multiple patients and prescriptions under one subscription and a prescription log book to maintain records. We also provide on-call pharmacist assistance for demonstrations and support, upon request."

Healthnet retails medications at competitive prices. Payments can be made online via a secure payment gateway or upon delivery using cash or POS card machines. Customers can also order a reduced quantity of items on a prescription if they so wish. However, this does not apply to antibiotics, as patients are required to complete the prescribed dosage.

The new website can be visited at, healthnet.lk. Healthnet can also be contacted via WhatsApp or Viber on 0766 791 791 or through the hotline 0117 795 795 which is open between 7:30 am and 9 p.m., seven days a week.