Matammana Orthopedic Suppliers Chairman/Founder Dieter Wendland and Ottobock Asia Pacific Regional President Bernard O'Keeffe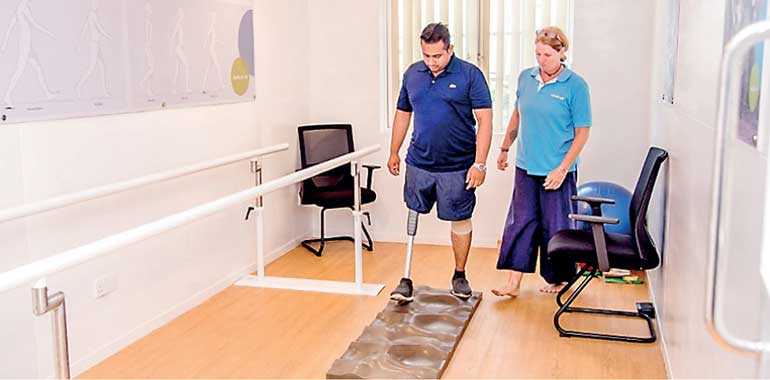 Demonstration on walking (gait) training and physio offered at Ottobock after fitting of an above knee prosthesis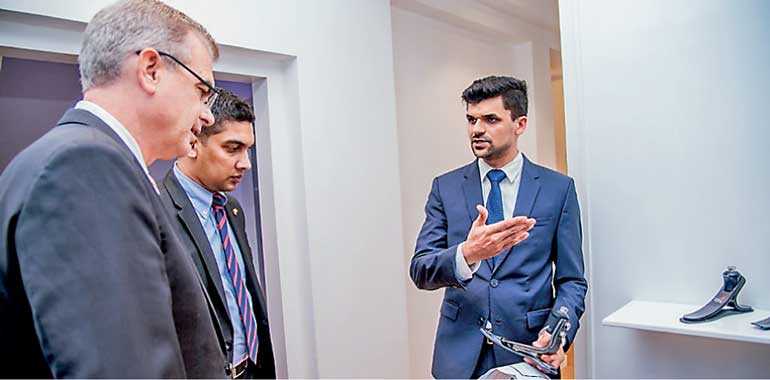 Explaining on the latest high-performance prosthetic feet by Ottobock
Herman Wendland appointed as Country Manager for Ottobock Sri Lanka
Ottobock the world's leading provider of cutting-edge orthopaedic products and services, specialising in the field of prosthetic and orthotic solutions opened its Sri Lankan Sales Office Ottobock Lanka Ltd. recently. Located at No 63, Gothami Road, Colombo-8, the Ottobock Sri Lanka office was inaugurated by German delegates, the board and the management, business associates, media, customers, staff and well-wishers.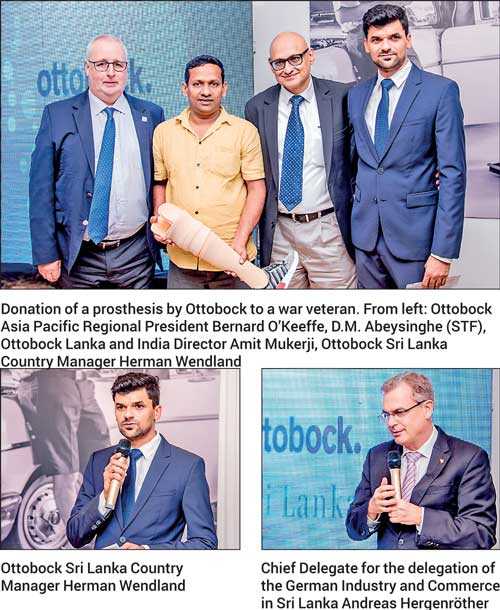 All around the world, the Ottobock name stands for high-quality and technologically outstanding products and services in the field of medical technology. The goal of helping to restore mobility for people with disabilities and protecting the mobility they have retained stands behind each and every one of the company's products.

Ottobock is a company that has nearly a 100-year legacy and is one of the trusted brands amongst customers when it comes to medical products and services. Prosthetics, Orthotics, Human Mobility (manual and power wheelchairs, rehabilitation products) and Prosthetic Fitting Services are the key Business Units of Ottobock.

"With the opening of the Sri Lankan office customers will have access to technologically advanced and high-quality products. When it comes to prosthetics it is important to have the most precise fitting and our products are personalised with the fittings been done according to each individual. Ottobock is equipped with the latest orthopaedic products and now, customers in Sri Lanka could purchase these products at ease from our local office.

"Furthermore, Ottobock offers consultancy for planning and equipping orthopaedic centres and can provide all machinery, equipment and material. We look to uplift the standards in the Prosthetic and Orthotic healthcare sector, and set a benchmark to guarantee a quality solution and service to the differently abled in Sri Lanka," stated Ottobock Sri Lanka Country Manager Herman Wendland.

Ottobock Sri Lanka office will be headed by Asia Pacific President Bernard O'Keeffe, Director Amit Mukerji and Herman Wendland.