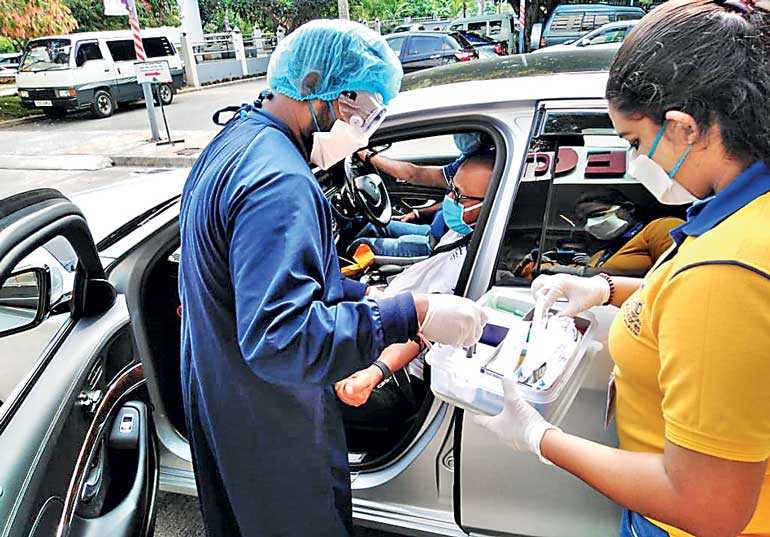 Lanka Hospitals Laboratories (LHD), the only medical laboratory in Sri Lanka with the merit of the highest-grade in accreditation, continues to be a pioneer in the industry by launching Sri Lanka's first 'drive-thru' blood sample collection centre.

As a first in the country's healthcare system, the sample collection process is located within the premises of Lanka Hospital and is capable of receiving a patient every 10 minutes, during the phase of its full scale operations.

Since its inception, LHD has been vigilant in assessing the changing patterns in the medical industry to adapt and introduce innovative concepts to cater to the community's needs. The innovative and timely setup of the drive-thru facility provides convenience to the patients by reducing their waiting-time for the overall sample collection process, and avoiding the hassle of parking by directly driving up to the assigned location, and have their specimens collected from the comfort of their vehicle.

Furthermore, this initiative facilitates social distancing. The drive-thru sample collection unit deploys qualified skilled staff who are equipped with personal protective equipment, for the safety of the patient and staff.

Lanka Hospitals Diagnostics is the first Sri Lankan laboratory to receive the American CAP (College of American Pathologists) Accreditation, in June 2017 and Re-accreditation in June 2019, which is solid proof for the unmatched high standards achieved by LHD for diagnostic accuracy, resulting in LHD being the most trusted laboratory network in the healthcare industry.

Indoscan Ltd. Chairman/CEO Ananda Samarasinghe who experienced the service said, "Thank you Lanka Hospitals Laboratories for this timely and innovative thinking. It was an unusual, convenient and safe experience in the current context and very thoughtful from a patient's point of view."

LHD continues to be the pioneer medical laboratory testing provider. By establishing the drive-thru concept in the country, LHD reiterates the fact that patients are its number one priority. Advanced diagnostic technology, together with professional experience of the LHD team, enables a fully prepared team to cope with the challenges posed by changing disease patterns of various geographies.

To balance the concept of 'You come to Us', LHD also operates one of the best fleets for mobile sample collection where 'We come to You'; dedicated personnel serve the needs of patients across Colombo and its suburbs with on-site service availability at the comfort of the patient's own home or place of preference. With 900 sample collection units spreading across the country, LHD boasts a test menu of over 1,050 tests on offer.

The drive-thru blood sample collection unit operates every day of the week for 10 hours between 7 a.m. and 5 p.m., and the hours are expected to be increased in due course.