By Ruwandi Gamage

A qualitative rapid diagnostic kit designed for early diagnosis to help lower the risk of mortality and medical complications for dengue was introduced to the market.

This FDA-approved dengue combo kit will retail at a price of Rs. 1,500 for patients and can only be obtained through GPs in your area, as it is recommended that a medical professional should administer the test.

Dr. Han representing Access Bio introduced the kit to the audience and explained why it was the best diagnostic test in the market for dengue.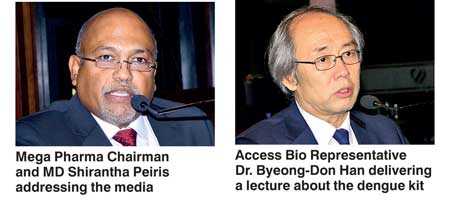 "The sensitivity of this test is the best developed in the world and we vouch for 95% accuracy. Therefore, it can distinguish between primary and secondary dengue infection. This combo kit is more useful for the early diagnosis of dengue sequels such as Dengue Haemorrhagic Fever (DHF) and Dengue Shock Syndrome (DSS)," he said.

The test is introduced to the Sri Lankan market by Mega Pharma Ltd., a pharmaceutical company which promotes innovative medical devices, in collaboration with Access Bio, USA, a bio-tech company dedicated to the prevention and early diagnosis of infectious diseases through research, development, and manufacturing of diagnostic tests and products.

Mega Pharma Chairman and Managing Director Shirantha Peiris explained to Daily FT that he partnered up with a friend in US to bring this kit to Sri Lanka and it took the company two years to obtain approval for its sale here.

Addressing the invitees and media, Peiris outlined the retail prices and further plans of distribution.

"The kit will be available for Rs. 1,000 for the doctors and we recommend a retail price of Rs. 1,500 to the patients. We are hoping to collaborate and introduce this kit to hospitals for better reach. From Monday (16) onwards the product will be accessible to doctors via our teams," he said.

The 'CareStart' dengue combo kit was launched on 13 July at Waters Edge, Battaramulla.

Pix by Waruna Wanniarachchi