For every missed call given to 1357 Sri Lanka Insurance donates Rs.10 to the PaediatricWard of Apeksha Cancer Hospital
George Steuart Health recently announced that it has launched the OnSight 3D Extremity System for the first time in Sri Lanka during a symposium held at the Golden Crown Hotel, Kandy, on 26 October. The launch took place on the second day of the 2018 Annual Academic Sessions of Sri Lanka Orthopaedic Association.

Having established as a leading player in the pharmaceutical market, George Steuart Health, in its quest to venture into the medical equipment industry, has partnered with Carestream Health, USA. Carestream Health is a worldwide provider of medical imaging systems and IT solutions, with operations in over 150 countries and more than 600 patents for medical imaging and information technology. Carestream Health is the global Market Leader in Medical Imaging and Healthcare IT, Non-Destructive Testing and Tollcoating/Contract Manufacturing.

In his welcome address, George Steuart Health Executive Director Eran Ranasinghe thanked Sri Lanka Orthopaedic Association for the opportunity to launch the Onsight 3D Extremity System, alongside the 2018 Annual Academic Sessions.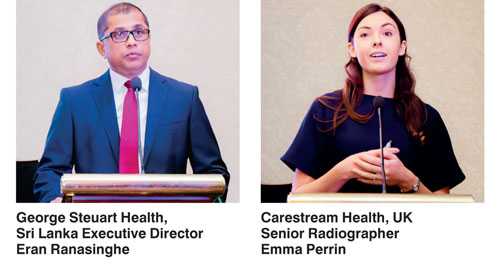 Elaborating his views on the matter, Ranasinghe noted, "We are proud to introduce an award winning innovation, in hopes of assisting doctors achieve more comprehensive, three dimensional data sets to create treatment plans."

Addressing the gathering, Carestream Health, UK Senior Radiographer and Product Specialist Emma Perrin highlighted the cardinal differences in traditional CT and cone beam CT; the technology used by the 3D extremity system. She also outlined the benefits offered by cone beam CT in comparison to the traditional CT Scanners.

The OnSight 3D Extremity System is designed specifically for imaging of extremities such as the hand, wrist, elbow, knee, ankle and foot. It provides pristine 3D images at the point of care – with an easy open bore design and enhanced patient access, which allows weight-bearing studies that were previously not possible with traditional CT. The comfort features and less X-ray exposure put patients at ease while offering doctors a large field of view and improved visualisation over 2D or standard 3D imaging.

The OnSight 3D Extremity System has been awarded the 2016 'North American Frost and Sullivan Award for New Product Innovation' and the 'Aunt Minnie 'Minnies' Award for 'Best New Radiological Device' in 2016.

George Steuart Health is one of Sri Lanka's premier healthcare and wellness solution providers and is a member of the George Steuart Group, acclaimed as Sri Lanka's oldest mercantile establishment and a leading diversified conglomerate.