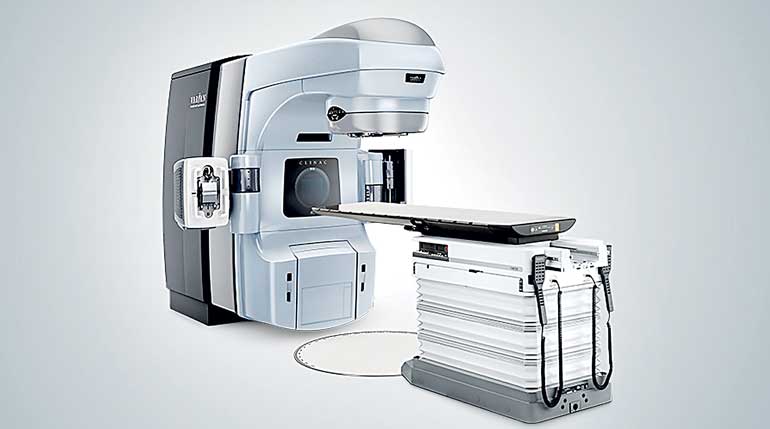 Ceylinco Healthcare Services Limited (CHSL) Chairman R. Renganathan (5th from right) and Ashok Kakkar - Senior Managing Director of Varian Medical Systems in the Indian Subcontinent exchange the Purchase Agreement in the presence of senior representatives of the two companies.
Ceylinco Healthcare Services Limited (CHSL) has announced the acquisition of a new Linear Accelerator for its Radiation Treatment Centre in Colombo, the pioneer private sector facility of its kind in Sri Lanka.

The company has signed a Purchase Agreement with Varian Medical Systems, a global leader in Radiation Oncology, for the acquisition of the latest Clinac iX linear accelerator to replace its existing unit, which when commissioned in 2007, was the first linear accelerator in the country.

The new linear accelerator delivers significant improvements in precision and reduced treatment times, enabling the Ceylinco Radiation Treatment Centre to efficiently deliver wide-ranging radiation therapy treatments including 3D Conformal Radiotherapy, Intensity Modulated Radiotherapy (IMRT) and MV based Image Guided Radiotherapy (IGRT), and with the future capability of Robotic Image-Guided Radiotherapy (IGRT), RapidArc Volumetric Modulated Arc Therapy (VMAT), and stereotactic radiosurgery.

The ClinaciX linear accelerator offers the choice of multiple photon beams and a range of electron beams, and also the future capability of High Intensity Mode facilitating patients to be treated faster with its ability to deliver high dose rates (up to 2,400 MU/min at 10MV High-Intensity mode), maintains better control over patient position with exact and real-time motion tracking capabilities, and keeps the treatment process connected through integration with treatment planning and management software. Important aspects for patients are the shorter beam times they will be subjected to, better targeting of tumors and by extension, the sparing of healthy tissue, and in some cases, the possibility of a reduced number of treatments.

Commenting on this latest acquisition, CHSL Chairman R. Renganathan said: "Improving patient outcomes in step with advances in technology is a primary responsibility of a healthcare provider. At CHSL, we closely monitor developments in product and process improvements in order to be able to offer our patients the benefit of the latest equipment and techniques, as part of our commitment to help them receive treatment in their own country."

"Varian Medical Systems has been a pioneer in the field of oncology for more than 60 years, and we are assured that with the arrival of this new and updated linear accelerator, CHSL will be able to further improve the quality of treatment offered at our radiation treatment centre," he added.

"With this linear accelerator, Ceylinco has the opportunity to provide the people of Sri Lanka with an advanced treatment facility and redefine the way cancer care is provided in the country," said Ashok Kakkar, Sr. Managing Director of Varian in the India Subcontinent.

The ClinaciX linear accelerator features RapidArc radiotherapy technology that offers the flexibility to shape the beam while controlling the dose rate and the gantry speed for a highly conformed dose; this means that the beam more accurately targets the shape and size of the tumor, while reducing damage to surrounding healthy tissues.

High Intensity Mode delivers X-ray beams without the use of a flattening filter, resulting in high dose rates that are practical for radiosurgery, respiratory-gated or breath-hold treatments.

With more than 7,400 linear accelerators installed around the world, of which nearly 200 are operating in India, Varian Medical Systems has extensive global and regional experience in radiation oncology. The Varian Clinac linear accelerator houses a range of capabilities that not only streamline the treatment process, but also expand possibilities for clinics.

In Sri Lanka, Varian Medical Systems is represented by Technomedics International Ltd, a specialist in turnkey hospital projects, medical equipment, and surgical consumables. One of the largest medical companies in the country, Technomedics is a multi-billion rupee enterprise with expert service centers covering the regions of Colombo, Kandy, Galle, Batticaloa, and Jaffna.

CHSL's first Linear Accelerator has treated more than 3,750 patients to date. Besides two radiation treatment units, Ceylinco Healthcare Services owns and operates the Ceylinco Diabetes Centre, offering comprehensive screening, diagnostic services and medical care.