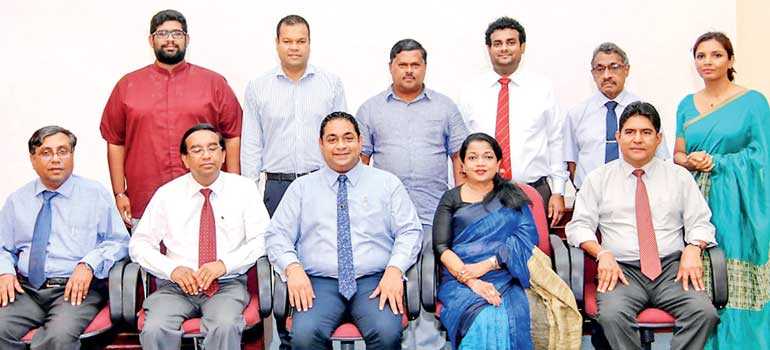 Seated from left: Eng. Ananda Kuruppu Arachchi, Dr. Sunil Ratnapreya, Dr. Lakith Peiris, Deshamanya Indrani Fernando, Dr. Ruwan Senatilleke. Standing from left: Raveen Wickremasinghe, Dinesh Ranaweera, Jayapadma Wanninayaka, Thenuka Bandara, Eng. Sarath Jayasinghe, Dr. Karthika Kathiresan
The Association of Private Hospitals and Nursing Homes recently elected a fresh panel of office-bearers to spearhead change within the industry by continuing the efforts of the association representing the entire private hospitals industry.

The members who will hold prominent roles within the organisation – which will be led by Hemas Hospitals' Managing Director Dr. Lakith Peiris in his capacity as President – are Vice Presidents Eng. Ananda Kuruppu Arachchi – Chairman and Managing Director of the Pannipitiya Nursing Home, Deshamanya Indrani Fernando – Chairperson/Managing Director of New Philip Hospital, and Dr. Ruwan Senatilleke – Medical Director of Asiri Hospitals; Secretary Dr. Sunil Ratnapreya – Deputy Director Medical Administration of Durdans Hospital, Assistant Secretary Dr. Karthika Kathiresan – Assistant Director Medical Services of Lanka Hospitals, Treasurer Thenuka Bandara – Finance Manager of Nawaloka Hospitals and Assistant Treasurer Dinesh Ranaweera – Managing Director of Royal Hospital.

The APHNH's Committee will comprise Prof. Lal Chandrasena (Immediate Past President) from Nawaloka Hospitals, Wijaya Ransi (former Secretary) from Western Hospital, Shamal Perera from Ninewells Hospital, Dr. Upali Banagala from Kings Hospital, Eng. Sarath Jayasinghe from Kandy Private Hospital, Raveen Wickremasinghe from Ruhunu Hospital, Dr. P. Keshawaraj from Northern Central Hospital, Jayapadma Wanninayaka from Kurunegala Co-op Hospital, Dr. Anura Nanayakkara from Osro Hospital, Samantha Perera from Asiri Central Hospital and Niranga Wijesooriya from Asiri Surgical Hospital.

Established in 1972, the APHNH represents all the country's private hospitals and nursing homes. According to official statistics from the Institute for Health Policy, the private healthcare sector accounts for Rs. 193 billion in expenditure on medical goods and services, which amounts to nearly 55% of the country's total healthcare cost.

As the leading representative of this industry, the association plays a vital role in uplifting healthcare standards and building a healthier country. Through its representation in the Private Health Services Regulatory Council (PHSRC), APHNH plays an important role in the regulation of the country's private health sector. Over the recent past, its efforts have also included facilitating skills development among healthcare workers, conducting courses for nurses to enhance their capability and contributing to the upliftment of healthcare standards in the country in various ways.