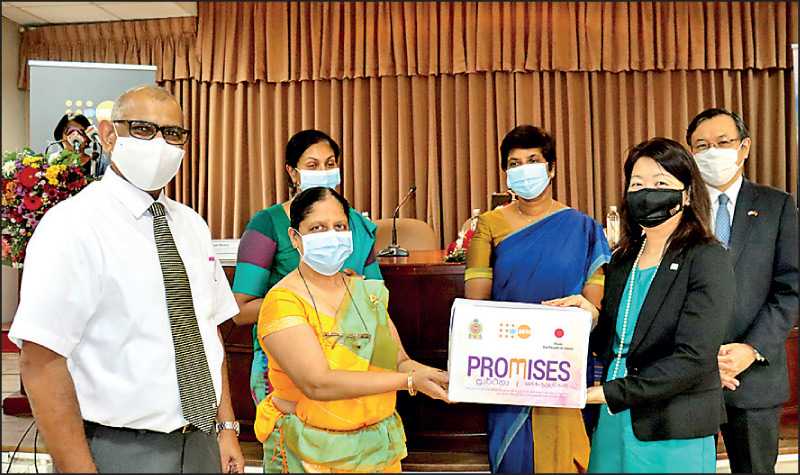 UNFPA Representative in Sri Lanka Ritsu Nacken handing over a consignment of goods to support the Ministry of Health
---
UNFPA Sri Lanka and Government of Japan support initiative by Ministry of Health
---
The United Nations Population Fund in Sri Lanka and the Government of Japan recently handed over a consignment of goods to support the Ministry of Health to strengthen access to sexual and reproductive health (SRH) services.

Additionally, the infrastructure provided will further strengthen the service provision capacity at women and youth-friendly health centres.

This support was made possible through 'Promises' – a $ 1.5 million UNFPA project supported by the Government of Japan designed to improve access to information and services on sexual and reproductive health and gender-based violence, aimed at women and young people.

The three-year project primarily focuses on improving women's access to family planning services in Sri Lanka, enhancing the capacity of women and youth-friendly health centres, and strengthening services for victims and survivors of gender-based violence.

As such, UNFPA Sri Lanka handed over essential medical and ICT equipment worth over $ 150,000 to the Ministry of Health on 29 March, at the Family Health Bureau in the presence of State Minister of Primary Health Care, Epidemics and COVID Disease Control Dr. Sudarshani Fernandopulle, Japanese Ambassador to Sri Lanka Akira Sugiyama, UNFPA Representative Ritsu Nacken and other officials.

Acknowledging this support, Minister Fernandopulle stated: "Sri Lanka has made significant progress in the health sector. Yet there continues to be areas where we can do better – particularly in terms of enhancing our delivery of sexual and reproductive health services for women and young people. On behalf of the Ministry of Health, I want to thank UNFPA Sri Lanka and the Government of Japan for the tremendous support and assistance in this area."

Speaking at the ceremony, Ambassador Sugiyama stated, "As a long-time development partner, Japan has been supporting the peace and development of Sri Lanka in response to the genuine needs of the Sri Lankan people, including in the areas of gender and women's empowerment. Sri Lanka and Japan are partner countries under the G7 Women, Peace, and Security (WPS) Initiative, for which Japan has so far extended approximately $ 6 million to Sri Lanka. We hope that the equipment and furniture handed over today will help the health centres better serve women and young people in need, who are key contributors to peace and sustainable development in this country."

Adding to this, Representative of UNFPA Sri Lanka Nacken stated: "Strengthening the access to and delivery of sexual and reproductive health (SRH) information and services is imperative so that women and girls are not left behind as we recover from the COVID-19 pandemic. Even pre-COVID, access to SRH information and services was tough for many, especially for young people. UNFPA together with the Government of Japan is pleased to support the Ministry of Health in ensuring everyone has access to essential life-saving services."

As Sri Lanka works to respond and recover from COVID-19, these essential items will ensure the continuous availability of SRH services amidst the pandemic and beyond.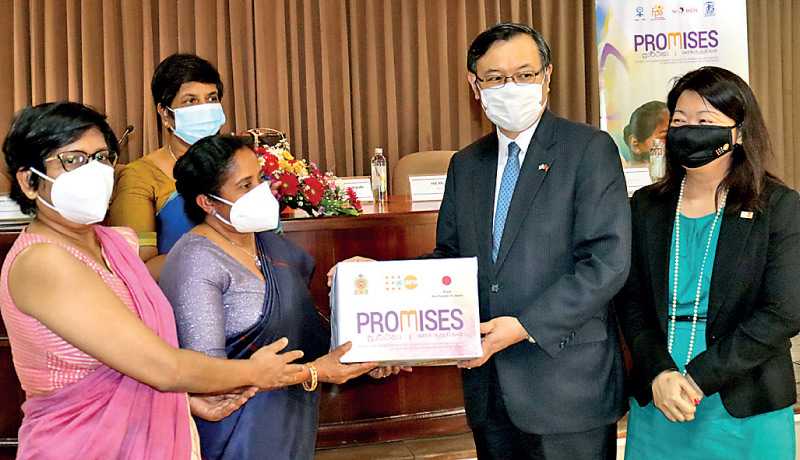 Japanese Ambassador to Sri Lanka Akira Sugiyama handing over a consignment of goods to support the Ministry of Health
---