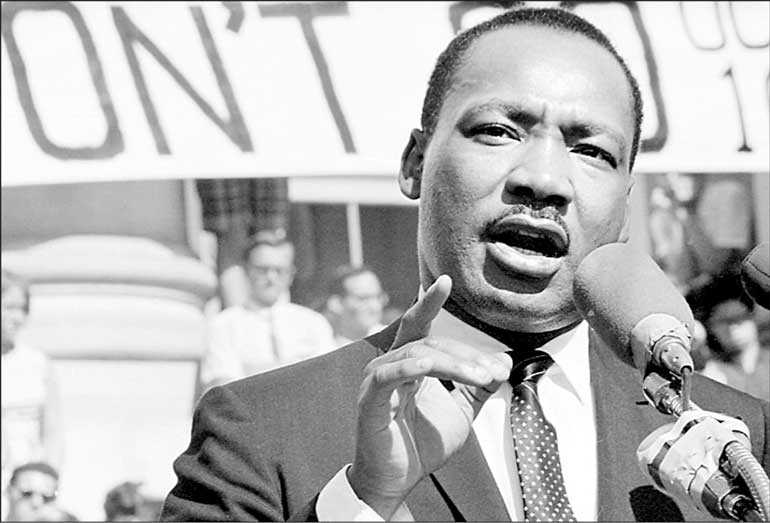 Humanists such as Martin Luther King Jr. were not merely fighting for the rights of one particular race; they were fighting for the future of humanity, for a world of true civilisation
"When scientific power outruns moral power we end up with guided missiles and misguided men"

– Martin Luther King, Jr.
By Suryamithra Vishwa

In this article we are examining the purpose of life. Why we are here and for what cause. Many Aboriginal, Eastern and Western mystics, poets, philosophers, social reformers and others have asked this question. In this page today we ask this question again. We ask this, in the backdrop of a pandemic that is as mysterious as the hate we humans learn to poison ourselves with, to be used against other humans.

This hate is sometimes dormant and can be embedded even within scientific (now discredited) claims that some genes are purportedly superior to others, the same theory used by the Nazis to murder thousands of men, women and children. This hate can be cunningly injected within so called legitimate structures represented by human beings.

We last week saw one horrific example in the United States of America. A Black American civilian was murdered by a fellow human being using sanctioned authority as an excuse just because he wore a police uniform. Similar abominations, sometimes using religion; the very channel that should elevate us, has been spearheaded as vehicles of hate and murder throughout history, within the context of the Western world, South Asia and elsewhere.
The words of these leaders are applicable universally. It will be blind and hypocritical of us Sri Lankans/fellow South Asians, to think that racism is only present in America. It is very much present on our soil too and we have much to do to eradicate the stupidity that discriminate people based on their ethnicity or religion


Prejudice is the seed of hate and is rooted in ignorance. Prejudice is often nurtured in social institutions, including education and religious institutions. However, hate is not the normal condition of a human being who enters this world. We arrive here without race baggage. Our normal condition is love. We arrive to this earth for our brief sojourn capable of many beautiful things we could do with the skills and knowledge honed during our stay here. Yet many learn the evil of hate. This is due to the non-cultivation of a genuine thinking ability by older humans who are therefore unable to teach the young a combination of introspection and genuine wisdom linked with true intellectual understwwwanding.

For wisdom, the spiritual, and the humanistic, there are no cultural, geographical or time restricted boundaries. As I write these words, playing in the backdrop is the 'So Hum' Sanskrit mantra from the vast body of Vedic Hindu spirituality. In Sanskrit 'So' means 'I' and 'Hum' means 'That'; and taken together, reading as 'I am That', it leads one to contemplate the inter connectedness of all things; as the word 'That', also translated as S/He, can be interpreted as the Universal oneness, which we can call in theological terms as God or Cosmic Source or the Ultimate Reality.

The core of Islam for example is the Oneness/inter connectedness of all things and hence proclaiming that God is One. The Native Americans and other indigenous communities, in their sacred nature based spirituality, respected every living thing as part of this Oneness; a part of the One reality, the Great Mother. The individual 'I' was seen as interconnected with the larger identity of the entire cosmos.

Every human being is therefore part of that reality; and this reality binds us to each other and all that is alive around us and why we are here is to weave together the harmony and beauty of that togetherness. Yet we have forgotten.

In the name of religion

Having treated our very home, this universe so callously and forming our industrial revolutions on exploitation based foundations, is it not surprising that we have justified throughout history the using of religion to carry out crimes such as criminal colonisation and slavery. Intrusion into ancient lands and civilisations were done in the name of religion. Africans, people of rich values and traditions, uncomprehended by the Western world and thereby termed 'primitive', were dragged away from their land and homes to become 'slaves' of a barbaric White world.

The past few centuries saw education systems of the unwhite world crumble. We learnt to learn within brick made classrooms, to feel ashamed of the old way of being and knowing and seeing the world. Greed and money and scepticism became the norm. Every system, ranging from education and health which were not mercenary based in ancient societies, but holistic and benevolent services, were transformed into channels that focused on money making rather than wellbeing creating.

We now pause to look at some of the words by Martin Luther King, of his speech titled 'The 3 evils of society' and delivered at the first annual national conference on New Politics in 1967. This speech although focusing on racism also features what he saw wrong in the foundation of science without morals and machinisation without humanity.

Speaking of extreme materialism he states: "An Asian writer has portrayed our dilemma in candid terms. He says: "You call your thousand material devices labour saving machinery. Yet you are forever busy. With the multiplying of your machinery, you grow increasingly fatigued, anxious, nervous and dissatisfied. Whatever you have you want more, wherever you are you want to go somewhere else. Your devices are neither time saving nor soul saving machinery. There are so many shops which urge you on to invent more machinery and to do more business. This tells us something about our civilisation that cannot be cast aside as a prejudiced charge by an Eastern thinker jealous of Western prosperity."

"Our moral lag must be redeemed. When scientific power outruns moral power we end up with guided missiles and misguided men."

"When we foolishly maximise the minimum and minimise the maximum we sign the warrant for our own day of doom."

"We have deluded ourselves into believing the myth that capitalism grew and prospered out of the Protestant ethic of hard work and sacrifice. The fact is that capitalism was built on the exploitation and suffering of Black slaves and continues to thrive on the exploitation of the poor, both the Black and the White, both here and abroad."

Why we are here

Martin Luther King probably would not have envisaged that the continuous rampant discrimination against Black Americans will exist six long decades after the Civil Rights Movement. But he, along with others such as the great Native American leaders and multitude of humanists around this world, urges us all to remember why we are here. That we are here to unite and not fragment, that we are here to heal and not pierce and that we are here to care and in that caring to seek a more profound sustenance for our minds so we could create a truly civilised and developed ethos for our world.

Humanists such as Martin Luther King were not merely fighting for the rights of one particular race; they were fighting for the future of humanity, for a world of true civilisation.
Prejudice is the seed of hate and is rooted in ignorance. Prejudice is often nurtured in social institutions, including education and religious institutions. However, hate is not the normal condition of a human being who enters this world. We arrive here without race baggage. Our normal condition is love. We arrive to this earth for our brief sojourn capable of many beautiful things we could do with the skills and knowledge honed during our stay here


As the ancient Vedic as well as Aboriginal wisdom tells us, when a human is cruel to another, he is being cruel to himself because every human action is connected, which is why Jesus emphasised the loving of one's neighbour. This is what Chief Seattle, the great Native American leader emphasised, even as he attempted a non-destructive path of reconciliation with the White occupiers of his land, despite witnessing atrocities committed on his people.

The words of these leaders are applicable universally. It will be blind and hypocritical of us Sri Lankans/fellow South Asians, to think that racism is only present in America. It is very much present on our soil too and we have much to do to eradicate the stupidity that discriminate people based on their ethnicity or religion.

It is appropriate to end with the words of Chief Seattle and keep in mind that every human being is an interwoven strand within this earth, meant to serve his or her own unique and healing service to humans and the planet.

"You must teach your children that the ground beneath their feet is the ashes of our grandfathers. So that they will respect the land, tell your children that the earth is rich with the lives of our kin. Teach your children what we have taught our children – that the earth is our mother. Whatever befalls the earth, befalls the sons of the earth. If men spit upon the ground, the spit upon themselves.

This we know. The earth does not belong to man; man belongs to the earth. This we know. All things are connected like the blood which unites one family. All things are connected.

Whatever befalls the earth befalls the sons of the earth. Man did not weave the web of life; he is merely a strand in it. Whatever he does to the web, he does to himself ..." – Chief Seattle